Description
High stability IR thermometer supports K-type themocouple probes
The InfraPro® is a lightweight infrared thermometer that features 50:1 spot size ratio allowing non-contact temperature measurement of a 3" diameter target from 12 feet away. The smaller spot size ratio, laser sighting, and adjustable emissivity improve the accuracy of temperature measurements.
The InfraPro® measures from -25 °F to +1400 °F (-32 °C to 760 °C). Emissivity is adjustable from 0.10 to 1.00 and the InfraPro also features an RTD probe input jack (RTD probe is optional with InfraPro4 and provided with the InfraPro5) to allow direct contact measurements to help determine the actual target emissivity.
Features
Adjustable emissivity from 0.01 to 1.0 (0.01 increments)
High-resolution 11:1 optics
Superior ambient temperature compensation stability
Built-in K-type thermocouple mini-connector jack
Precise diode-laser aiming capability
Programmable High & Low temperature limits with alarms
Large amber backlit LCD for easy viewing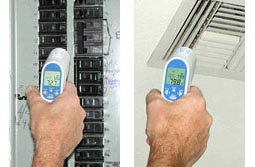 The InfraPro is designed for all types of non-contact temperature measurement where objects are too hot (or cold) to touch, or are difficult to reach; including boiler operations, heat exchangers, radiators, motor bearings, air conditioning ducts and electrical panels. The backlit LCD display and laser targeting permit accurate measurements even in low light conditions.
The InfraPro5 is rated intrinsically safe Class 1 Division 1, Groups A, B, C, D and Class 1 Zone 0, Aex ia IIC, T4 at 50 °C making it safe to operate in explosive atmospheres.
InfraPro Infrared Thermometers run on a 9 Volt battery and provide useful features including reading hold, maximum, minimum, average or differential readings, high and low alarms, low battery indicator, trigger lock for long-term monitoring and a memory that holds up to 12 readings.
Specs
Specifications
Measurment Range
-76 °F to 932 °F (-60 °C to 500 °C)
Operating Range
32 °F to 122 °F (-0 °C to 50 °C)
Temperature Accuracy
±1.8 °F/±1.0 °C
(Tobj=59 °F to 96 °F/15 ° to35 °C, and Tamb= 77 °F/25 °C)
Response Time
(90%) 1 second
Distance to Spot Size Ratio
11:1
Emissivity Adjustment
0.10 to 1.0 in .01 increments
Update Frequency
1.4Hz
Wave Length
8 to 14 micron
Battery
AAA (2 each)
Dimensions
7"L x 2.8"W x 1.5"H
Weight
6.5 oz.
Thermocouple Input
Mini-Connector Socket
K-type
Measurement Range
-83.2 °F to 1999 °F (-64 °C to 1400 °C)
Accuracy (meter only)
±1% of reading or ±1.0 °C (whichever is greater)
Fuse: # 303030, Littlefuse 5/PK 30AMP 32V
Dimensions
K-type Thermocouple Probes

Precision Surface Probe
With this handheld surface probe, readings generally take less than 5 seconds! The sensor is made from flat-spring ribbons of thermocouple material and is popular in equipment servicing applications and the plastics and packaging industries. Maximum temperature 932 °F.

Plug-Mounted Air/ Gas Probe
Same as the handheld air/gas probe but without the handle and cable. The shaft is mounted directly to a miniature thermocouple connector for plugging directly into a meter. An optional detachable coiled or straight extension lead is also available. Max. temp. 482 °F.

K-type Extension Cord, coiled
Extend the reach of your probe to 79 inches (2 meters) with this probe extension lead. Cable is coiled and works with type K probes and meters. Features a plug on one end and a socket on the other.
Part No.
Description
Quantity
In Stock
Price
EA
Order
DT1100
INFRARED THERMOMETER
DISCONTINUED
---
---
113301
PLUG-MOUNTED AIR/GAS PROBE
DISCONTINUED
---
---
XCK2MMF
K-TYPE EXTENSION CORD COILED, 79"
DISCONTINUED
---
---
* Call for availability.
Ordering information. International (non-US) prices available through your local dealer.