Product ID : H2PD150
H2PD300 Flow Rate=300 cc/min H2 Generator H2500 Flow Rate=500 cc/min H2 Generator H2PD150 Flow Rate=150 cc/min H2 Generator H2800 Flow Rate=800 cc/min H2 Generator H21200 Flow Rate=1200 cc/min H2 Generator
Features
Produces a continuous supply of 99.99999+% pure hydrogen gas from deionized water and standard electrical service.
Eliminate inconvenient and dangerous hydrogen gas cylinders from the laboratory using reliable state-of-the-art technology.
Compact, requires less than one square foot of bench space.
Complies with OSHA regulations by eliminating hydrogen cylinders.
Electrolyte leak detector with automatic shutdown and automatic over-pressure shutdown.
Two models available for flow rates of 150 cc/min. and 300 cc/min. Larger sizes available.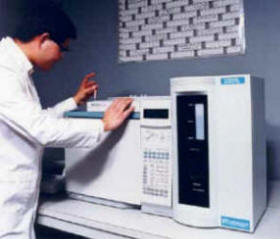 Description
The Parker/Balston Hydrogen Generators allow users to eliminate the need for expensive, dangerous, high pressure cylinders of hydrogen from the laboratory. The generator continually produces 150 cc/min. or 300 cc/min. of ultra-pure hydrogen gas safely and conveniently at regulated pressures from 0 to 60 psig, eliminating the need to interrupt analysis to change tanks. The Balston Hydrogen Generator is a benchtop unit designed for convenience and portability in the laboratory or in the field. Hydrogen is produced by electrolytic dissociation of water. The resultant hydrogen stream then passes through palladium membranes. Only hydrogen and its isotopes can penetrate the palladium membranes; therefore, the purity of the output gas is guaranteed to be 99.99999+% consistently. This technology produces hydrogen at a purity two orders of magnitude greater than other technologies. The Parker/Balston Hydrogen Generator offers many special features to ensure safe and convenient operation. These features include low-water, over-pressure and electrolyte leak detection - all with automatic shutdown.
Applications

The Parker/Balston Hydrogen Generators are an excellent source of ultra pure, dry hydrogen for a wide range of laboratory uses. The generator is used extensively with Gas Chromatographs, both as a fuel gas for Flame Ionization Detectors(FID) and as a carrier gas to ensure absolute repeatability of retention times. In high sensitivity Trace Hydrocarbon Analyzers and air pollution monitors, the hydrogen produced ensures the lowest possible background noise. Other applications include using hydrogen for hydrogenation reactions and the analysis of engine gas emissions in the automobile industry. In all applications the Parker/Balston Hydrogen Generator sets the standard for safety, operational performance and dependability.
Specs
Hydrogen Generators
H2PD-150
H2PD-300
Hydrogen Purity
99.99999+%
Oxygen Content
<.01 ppm
Moisture Content
<1.0 ppm
Max Hydrogen Flow Rate
150 cc/min
300 cc/min
Electrical Requirements
120 VAC/60 Hz,
3.15 Amps
Hydrogen Outlet Pressure
Adjustable,
0 to 60 psig
Certifications
IEC 1010-1; CSA;
UL3101; CE Mark
Dimensions
12"w x 12"d x 22"h
(30 cm x 33 cm x 58 cm)
Outlet Port
1/8" Compression
Shipping Weight
58 lbs (26 kg)