Tweet

    VOL. XXI, NO. 1          May 1996
Contents
1.  ASMS 96 Meeting in Portland Oregon
2.  SIS Poster Presentations at the 1996 ASMS Meeting
3.  SIS Hospitality Suite at the 1996 ASMS Meeting
4.  SIS on the World Wide Web
5.  New Micro Cryo-Trap
6.  SIS Now Distributes Edwards Vacuum Pumps
7.  Free Catalog of Scientific, Engineering and Technical Software
8.  SIMION 3D Electron Ion Optics Software - Now Available from SIS

---
Scientific Instrument Services will once again be present at this years ASMS meeting. The meeting will be held the week of May 12-16, 1996 at the Oregon Convention Center in Portland. Because this years meeting is being held in a convention center and attendees will be staying at a number of hotels the format of many of the meetings programs have been changed.
---
Manufacturers Poster Session - All Days

     SIS on the World Wide WEB 
     John Manura, Christopher Baker, Steven Colby and Santford Overton 

Monday - May 13, 1996 - SIS Poster Sessions

     The Design of a New Direct Probe Inlet for a Mass Spectrometer
     Christopher Baker and John Manos 
     Application of SIMION 6.0 to Filament Design for Mass Spectrometer Sources 
     Christopher Baker, Steven Colby and John Manura 

Tuesday - May 14, 1996 - SIS Poster Sessions

     Volatile Organic Composition in Blueberry
     Santford Overton and John Manura 

Thursday - May 16, 1996

     Application of SIMION 6.0 to Problems in Time-of-Flight Mass Spectrometry 
     Steven Colby and John Manura 
     Delayed Extraction and Laser Desorption: Time-lag Focusing and Beyond 
     Steven Colby Santford Overton and John Manura 

Hyperlink to any of the above titles to view an abstract on the above posters. One particular paper of importance to the mass spectrometer user is the poster presentation on Thursday by Sandy on Pump Oils for vacuum pumps. For this paper we ran 2 vacuum pumps with 2 different oils (Inland 19 & Invoil 45) for three months. Oil samples were removed every week and analyzed via purge and trap GC/MS. The two pump oils were then compared to demonstrate the degradation of these oils and to show why pump oils should be changed frequently.
Steven Colby will also be presenting several posters to demonstrate the use of the SIMION 3D software in the design of mass spectrometer sources (Monday) and in Time-of-Flight Mass Spectrometers (Thursday). Additional applications of Simion can also be discussed with Steve at our hospitality suite.
---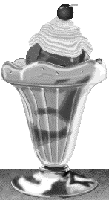 Join SIS at our Hospitality Suite for a Yogurt Sundae

     Monday and Tuesday 12:30 pm to 2:00 pm 
     ASMS Convention Room A103 

SIS has reserved a room in the convention center, which will be open Monday and Tuesday during the meeting as follows:

     SIS Meeting Room at ASMS Convention: Room A103 
     General Open Hours: 
         Monday and Tuesday 
         This room will be open to all during the following hours as established by ASMS 
         12:30 pm to 2:00 pm - Join us for a Yogurt Sundae 
          5:50 pm to 7:30 pm - Join us to discuss your needs

In addition our meeting room will be open at other times for private conference meetings. If you would like to spend some time with the Staff of SIS, plan to stop by and see us during the general open hours listed above or give us a call to schedule a conference meeting to discuss any of our products or services or to discuss your particular requirements of SIS. We look forward to the ASMS meeting each year. We get a lot of new ideas for new products as well as suggestions as to how we can better serve you. We appreciate the opportunity to meet with you either in our meeting room or at one of the many posters that we will be presenting. We would be happy to discuss our capabilities and offer our expertise regarding custom instrument modifications or designs for new products. Our goal is to serve the needs of the mass spectrometer community.