Part No.
Description
Price
EA
Order
006683
250 µL
$100.40
008183
1 mL
CALL
* Standard lead-time for non-stock items is approximately two weeks depending on the item.
Ordering information. International (non-US) prices available through your local dealer.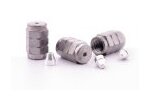 SGE Ferrules for GC
standard graphite ferrules (for GC applications)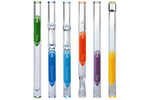 SGE GC Injection Port Liners
SGE offers a wide variety of injection port liners.