Description
These stainless steel spacers correspond to HP# 05985-20106.
Part No.
Description
Quantity
In Stock
Price
EA
Order
HP9
*METAL SPACER HP# 05985-20106/PRICE INCREASE
DISCONTINUED
---
---
* Call for availability.
Ordering information. International (non-US) prices available through your local dealer.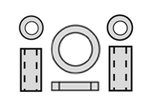 Ceramic Washer Insulators
A wide variety of alumina ceramic washers.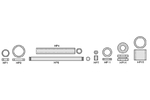 Ceramic Insulators for Agilent MS
Replacement insulators for Agilent mass spectrometers.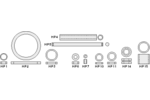 Agilent (Hewlett Packard) Ceramic Insulators
The following ceramic insulators are made from high purity alumina ceramic.