Description
These stainless steel spacers correspond to HP# 05985-20106.
Part No.
OD (in)
ID (in)
Length (in)
HP #
Price
EA
Order
HP9
HP Metal Spacer
0.248
0.149
0.100
05985-20106
$27.00
* Standard lead-time for non-stock items is approximately two weeks depending on the item.
Ordering information. International (non-US) prices available through your local dealer.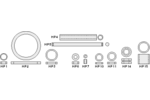 Agilent (Hewlett Packard) Ceramic Insulators
The following ceramic insulators are made from high purity alumina ceramic.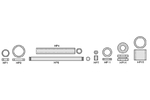 Ceramic Insulators for Agilent MS
Replacement insulators for Agilent mass spectrometers.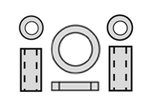 Ceramic Washer Insulators
A wide variety of alumina ceramic washers.