Product ID : FINDEP
FINDEP3 Options=Ribbon Style DEP Filament FINDEP1 Options=Large Loop DEP Filament FINDEP Options=S.I.S. Thermo DEP Filament FINDEP2 Options=Glass Encapsulated DEP Filament
Description
New Direct Exposure Probe filaments, Thermo #40060-98006, are available from S.I.S. for use on Thermo 4000 and 4500 mass specs. These are direct retrofits for the original plug-in filaments. Repair service, which includes ceramic insulator, cleaning and attachment of a new filament loop, is also available.
SIS also offers a variety of other filament designs for use on the Thermo probe. FINDEP1 has a larger loop diameter of .031". FINDEP2 is a glass encapsulated loop. This provides a metal-free surface for your samples. FINDEP3 utilizes a filament ribbon for easy sample loading.
These filaments can also be repaired by S.I.S.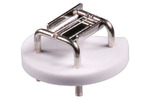 Filament Repair Services for Mass Spectrometers
Mass Spectrometer filaments and heaters can be repaired and restored to a like-new condition at S.I.S.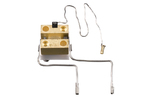 Perkin Elmer / Torion / Hitachi Filament Repair
All RMU filaments and heaters are repairable.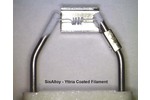 Long Life Yttria Coated SISAlloy® (Yttria/Rhenium Alloy) Mass Spec Filaments
SIS can repair your filaments with our non-sagging filament wire (SISAlloy® yttria/rhenium alloy with yttria coating). Users have experienced filament lifetime increases of 2 to 3 times compared to the standard uncoated rhenium filaments.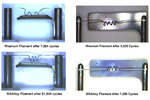 SISAlloy® Yttria/Rhenium Alloy MS Filaments
SIS introduces their new Yttria Rhenium alloy filament wire. In these studies we have discovered that by alloying Rhenium with a small concentration of Yttria, the crystal structure of the rhenium material was altered, which resulted in a stronger filament that is much less susceptible to warping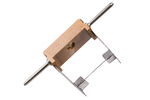 Agilent/HP Filament Repair at SIS
We will completely clean the assembly and replace the rhenium filament wire.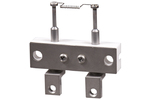 Siemens/Bruker Filament Repair at SIS
These instruments, which are used in crystallography, utilize coiled tungsten filaments.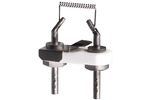 Rigaku X-Ray Generator Filament Repair at SIS
These instruments, which are used in crystallography, utilize coiled tungsten filaments.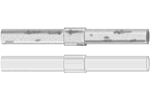 Thermo/Finnigan MAT Ceramic Cleaning, Sandblasting
The insulators are first sandblasted with aluminum oxide, then with glass beads.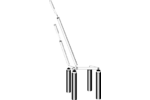 Thermo/Finnigan TSQ®70, 700 Source Heater
The heater source for the Finnigan TSQ70, 700 includes 4 cartridge heaters, ceramic insulators, leads and connectors.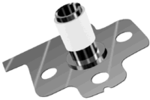 Agilent 5970 Entrance Lens Repair
The spotwelds holding the two parts together can break loose.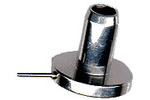 Agilent Entrance Lens Repair
If the connector pin on the entrance lens becomes damaged, it can be repaired in our shops.