Product ID : JR201540
JR201540 Easy-Flange, kit in plastic case
Description
Create or restore flanged tubing connections with this handy tool. It requires no electrical power, and does not weaken tubing by heating it. Use it anywhere in the lab. Dies for most common PTFE tubing sizes included, plus extra-strong steel dies for making flanges on thin-walled PEEK tubing. Complete, easy-to-use instructions included.
Includes
Plastic box
Flanging discs with:

0.5 mm SS pin for PEEK tubing
0.8 mm polymer pin
0.8 mm titanium pin
1.3 mm polymer pin
1/3 mm titanium pin

Clean-cut tubing cutter
PTFE tubing, 1/16" x 0.75 mm ID, 6 feet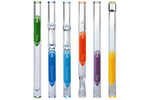 SGE GC Injection Port Liners
SGE offers a wide variety of injection port liners.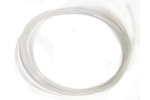 PTFE Tubing
SIS also offers this tubing in black for light sensitive applications.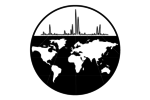 Thermo/Finnigan Electrospray Accessories, PEEK Tubing
Accessories such as PEEK tubing and ferrules, and small diameter fused silica tubing are now available from stock.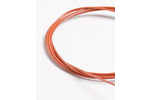 PEEK Tubing
SIS offers two types of PEEK tubing: Solid color coded tubing, and natural tan tubing with a color coded stripe.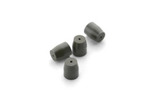 SGE Graphitized Vespel® Ferrules
Vespel® ferrules contain 15% graphite and are ideal for glass and fused silica capillary columns.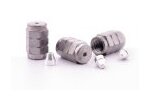 SGE Ferrules for GC
standard graphite ferrules (for GC applications)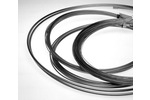 Stainless Steel Tubing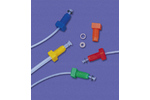 VICI HPLC Low Pressure Flange Fittings
Resilient 1/4"-28 Delrin nut with polypropylene O-ring ferrule.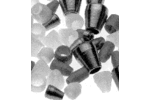 VICI Ferrueles for SIS Fittings
HPLC ferrules made to fit the size needed.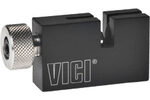 Tubing Cutter for Chromatography
Chromatography Tools available from Scientific Instrument Services, Inc.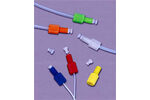 VICI Flangeless Fittings
Zero-dead-volume fingertight connections are rated to 70 bar (1000 psi) for 1/16" tubing, 35 bar (500 psi) for 1/8" tubing.