Description
The most common material for most routine HPLC applications. Its high strength (burst pressure >8000 psi), general inertness and resistance to corrosion make it the standard material for HPLC plumbing. Stainless steel can corrode under extremes of pH, and it can bind proteins as well as contribute metal ions to mobile phases. These properties make stainless steel incompatible with the analysis of many biomolecules and the use of buffers with high ionic strength. Bulk stainless steel tubing from SIS is solvent-cleaned and baked prior to shipment.
chromatography grade 316 stainless steel tubing, price per foot
Part No.
OD(in)
ID(in)
Quantity
In Stock
Price
/Foot
Order
SSTB010
1/16
0.010
212
$3.25
SSTB020
1/16
0.020
77
$3.25
SSTB030
1/16
0.030
384
$3.25
SSTB040
1/16
0.040
32
$3.50
SSTB082
1/8
0.082
109
$4.00
Unit of measure for ordering is Foot.
Ordering information. International (non-US) prices available through your local dealer.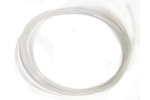 PTFE Tubing
SIS also offers this tubing in black for light sensitive applications.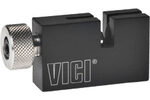 Tubing Cutter for Chromatography
Chromatography Tools available from Scientific Instrument Services, Inc.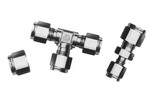 Swagelok® Fittings
A complete line of Brass and Stainless Steel Fittings for GC, MS and general laboratory use.