Product ID : STRBR5X2
STRBR5X2 STIRBAR 5 X 2MM TEFLON COATED MAGNETIC STIRBAR.
Description
Magnetic Stirbar, 5mm x 2mm, PTFE® coated. Sized for use in microcentrifuge tubes. Use it to keep particles in suspension in the pressure injection cells.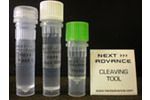 Next Advance Frit Kit for Pressure Injection Cell
Kit to create frits in capillaries. Includes formamide, Kasil-1, Kasil-1624 and a cleaving tool.