Product ID : FRITKIT
FRITKIT Frit Kit Kit to create frits in capillaries. Includes formamide, Kasil-1, Kasil-1624 and a cleaving tool.
Description
The Frit Kit includes Kasil 1, Kasil 1624, and formamide for making frits in capillary columns. A ceramic cleaving tool to cut the fused silica capillaries is also included. Included with all the pressure cells.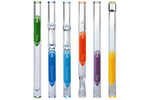 SGE GC Injection Port Liners
SGE offers a wide variety of injection port liners.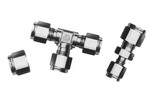 Swagelok® Fittings
A complete line of Brass and Stainless Steel Fittings for GC, MS and general laboratory use.