Description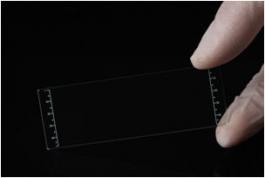 A line of Hudson Surface Technology cost-effective, high-performance tools for MALDI-TOF (Matrix Assisted Laser Desorption Ionization - Time of Flight) Mass Spectrometry and proteomics. Get better results, in less time, at less cost and greater convenience with HST products.
ITO slide glass sample plates are glass slides coated with indium-tin oxide to provide a conductive surface and marked for MALDI imaging. These sample plates enable MALDI imaging and light microscopy on the same sample. Type I slides have a small area for labeling, Type II do not. ITO glass slides are also available in two thicknesses: 0.7 and 1.1. mm.
Features
Sensitivity
Productivity
Economy
High Throughout
Imaging
ITO Glass MALDI Sample Plates
Economical, High Performance Imaging
Robust Indium-Tin Oxide Coating
25 x 75mm, Type 1 or 2 Format
0.7mm and 1.25mm Thickness
MALDI-TOF Supplies, Series=ITO Glass, Dim=25x75 mm
Part No.
Type
Thickness
pkg of
Price
/PK
Order
PSI0107000
I-0.7/25
0.7t
25
$293.00
PSI0207000
I-0.7/100
0.7t
100
$1105.00
PSI0111000
I-1.1/25
1.1t
25
$293.00
PSI0211000
I-1.1/100
1.1t
100
$1105.00
PSI1107000
II-0.7/25
0.7t
25
$293.00
PSI1207000
II-0.7/100
0.7t
100
$1105.00
PSI1111000
II-1.1/25
1.1t
25
$293.00
PSI1211000
II-1.1/100
1.1t
100
$1105.00
Unit of measure for ordering is PK.
* Lead time for this non-stock item is approximately 7 days.
Ordering information. International (non-US) prices available through your local dealer.