Compiled by Scientific Instrument Services
Scientific Instrument Services, Inc., 1993, 326 pp.
Description
The Mass Spec Handbook of Service, Volume II, compiled by Scientific Instrument Services, Inc., is a collection of articles from the "Mass Spec Source" Newsletter on the maintenance and service of mass spectrometers, gas chromatographs and the Thermal Desorption System.

Volume II of "The Mass Spec Handbook of Service" is a compilation of articles which have appeared in the "Mass Spec Source" newsletter since its conception in 1983 through 1992. This volume and subsequent volumes will contain articles, procedures and notes on the maintenance, repair, redesign, modification and manufacture of any and all models of mass spectrometers and related equipment. The previous Volume I of this series was published in 1983.

This book is written for the users and operators of mass spectrometers to fill the vacuum of knowledge required to operate, maintain, and modify mass spectrometers. It is designed to be a source of information to provide procedures, new methods, ideas, and techniques for mass spectrometer operators.

While the methods and procedures contained in this volume have been successfully used as described by the authors; neither the authors, the staff of Scientific Instrument Services, or the publisher will be responsible for any direct or indirect damages resulting from the use of this volume nor will we be responsible for any injuries resulting while attempting to use any of the procedures or equipment involved.
---
Chapters - The Mass Spec Handbook of Service, Volume II
1. Mass Spec Filaments
2. Multipliers
3. Transfer Lines, Jets, Interfaces, Splitters
4. Mass Spec Maintenance and Cleaning
5. Instrument Reviews
6. Reference Compounds
7. Vacuum Pumps
8. Probes
9. Computers
10. Gas Chromatography
11. Thermal Desorption
Part No.
Description
Quantity
In Stock
Price
EA
Order
MSHS2
Mass Spec Handbook of Service, Vol. II
DISCONTINUED
---
---
* Call for availability.
Ordering information. International (non-US) prices available through your local dealer.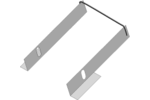 Agilent/HP MS 5970 MSD® and 599X Series Filament
New filaments for your Agilent 5970 MSD.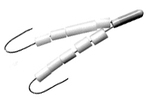 Perkin Elmer Q-Mass PRT Sensor
Replacement temperature sensor.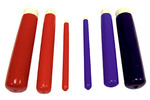 Spun Fiberglass Cleaning Brushes
Fiberglass brushes are manufactured from spun glass in two grades of material - coarse and fine.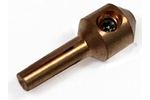 Push-On Connector
Electric Connectors with Spline Socket Set Screw.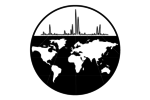 Tungsten Wire, Ribbon, Filament Wire for Electron Emitters, Heater Wire
Buy tungsten wire, ribbon for mass spectrometer heaters here. Choose from varying thickness, Tungsten filament wire sold by the foot.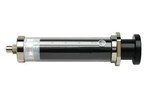 Gas Tight 10 µL to 500 µL Syringes
Plungers are interchangeable on these syringes.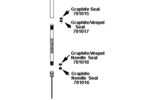 Seals for SIS Thermal Desorption Tubes
Seals are utilized in a variety of locations in the Short Path Thermal Desorption Unit.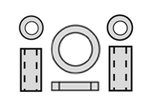 Ceramic Washer Insulators
A wide variety of alumina ceramic washers.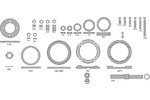 Ceramic Insulators for Thermo
The following alumina insulators are currently available for the Thermo instruments.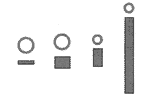 Ceramic Insulators for Thermo/Finnigan Incos Mass Spec
Alumina ceramics for the Incos 50 Source.