Product ID : FK201
FK201 Edwards Large Pump Filter Kit- E1M5/8, E2M2/35/8, RV3/5/8
Description
Vacuum Pump Exhaust Kit mounted on an Edwards E2M1.5 Pump
For Edwards Pump Models E1M5/8, E2M2/3/5/8 and RV3/5/8
The Pump filter Kit for the Edwards Pump includes the Edwards EMF10 Oil Mist Eliminator, Koby Charcoal Trap and all the fittings needed to attach this two filter system on the larger Edwards series of vacuum pumps. Included is the 3/4 Pump Adaptor which screws into the exhaust port of the vacuum pump. The oil mist eliminator then attaches to the NW25 flange on this fitting. This kit is to be used with Edwards models E1M5/8, E2M2/3/5/8 and the RV3/5/8 series vacuum pumps. It can also be used with any other manufacturers pumps that have an NW25 flange type fitting on the exhaust port.
Removes Contaminants From Vacuum Pump Exhaust.
FK201 Filter Kit Assembly
Assembly of the Two-Stage Exhaust Filter System
Part # KA1
Koby Charcoal Filter
Part # QF25100CW
NW25 Quick Clamp
Part # QF25100AP25
1/4" to NW25 Adaptor
Part # QF25100ARB
Centering Ring
Part # A46226000

Oil Mist Eliminator
Centering Ring
Connect Clamp
3/4" Pump Adaptor
Contents
Components of the Edwards Vacuum Pump Exhaust Kit - Part # FK201
Quant.
Part #
Description
1
A46226000
Edwards Oil Mist Eliminator, 1 Centering Ring, 1 Clamp & 1 Pump Adaptor
1
KA1
Koby Charcoal Filter
1
QF25100AP25
Aluminum 1/4 Pipe to NW25 Flange Adaptor
1
QF25100ARB
Aluminum Centering Ring, NW25, Buna O Ring
1
QF25100CW
Quick Connect Clamp, NW25, Wingnut
Reference
General Information on SIS Exhaust Systems
The Koby Charcoal Filters are highly recommended to be placed on the exhaust of vacuum pumps that are normally vented directly into the laboratory. SIS has undertaken extensive studies on the application and efficiency of the Koby filters when used on vacuum pump exhausts. Vacuum exhaust air which is exhausted through the Koby filter, has been shown to be cleaner than normal room air.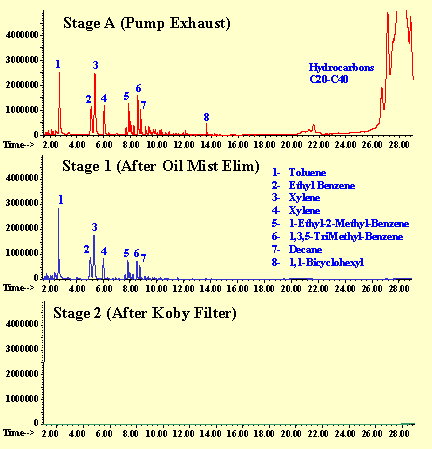 Figure # 1 - Effect of Vacuum Pump Exhaust Filtering
The chart above shows the steps in filtering air from a vacuum pump after 1.0 ml of gasoline was injected into the pump. The top chromatograph shows the low boiling organics as well as high boiling hydrocarbons that are exhausted out of the vacuum pump before any filtering. The second chromatogram shows the exhaust air after the oil mist eliminator - the oil mist eliminator traps the heavy hydrocarbons from the pump oil and returns them to the pump. The bottom chromatogram shows the exhaust air after it is filtered through the Koby trap - the exhaust air is cleaner than the normal room air.
For additional information and the results of our studies visit the SIS Application Notes on Vacuum Pump Exhaust Filters:
It is normally recommended that the Koby carbon filters be used in conjunction with an oil mist eliminator. The oil mist eliminator traps and returns the vacuum pump oil to the vacuum pump, preventing this oil from saturating the charcoal filter which will reduce its life. The Koby Air Purifier removes any remaining organic contamination which might otherwise be emitted into the laboratory air.
Kits for Other Vacuum Pumps are also available from SIS.
Oil Mist Eliminators and Koby Filters can also be purchased separately from SIS
Edward Oil Mist Eliminators
Extra Information
Ordering
Edwards Vacuum Pump Kit (Kit FK201) contains the Edwards Oil Mist Eliminator, Koby Filter and the fittings shown above. This kit is all you need to install the complete two stage exhaust filter to your Edwards vacuum pump models E1M5/8, E2M3/5/8 and the RV3/5/8.
Maintenance Accessories:
Koby Charcoal Filters (KA1) - It is recommended that the Koby Charcoal Traps be changed monthly to assure the highest efficiency of exhaust filtering. But in lots of 10 or more and save.
Replacement Filters for Edwards EMF10 (A22304198) Oil Mist Eliminator (A46226000) - It is recommended that the paper filter in the Edwards Oil Mist Eliminator is changed yearly, or more frequently if very caustic materials are pumped through the vacuum pump.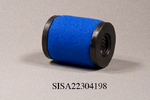 SIS Replacement Elements For Edwards Oil and Odor Filters - EMF10
SIS Replacement Elements For Edwards Oil and Odor Filters at a low cost.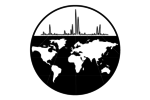 Parts for BOC Edwards Vacuum Pumps


(by Precision Plus)
19201007 : OEM=Edwards,Part Type=Valves,Description=Valve Piston,Pump Models=E1M40;E2M40,20404011 : OEM=Edwards,Part Type=Bearings,Description=Roller Bearing EM40,Pump Models=E1M40;E2M28;E2M30;E2M40,25904601 : OEM=Edwards,Part Type=Misc,Description=Ballast Valve E1M80,Pump Models=E1M40;E2M40,29201006 : OEM=Edwards,Part Type=Sight Glasses,Description=Sight Glass E1M80,Pump Models=E1M40;E1M80;E2M40;E2M80,00307046 : OEM=Edwards,Part Type=Springs,Description=SPRING,Pump Models=E1M18;E2M18,00714012 :...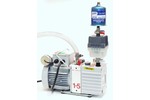 Vacuum Pump Exhaust Filter Kits for Edwards Vacuum Pumps - FK251
For Edwards models E2M0.7, E2M1, E2M1.5 pumps removes contaminants from vacuum pump exhaust.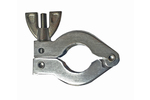 Wing-Nut Aluminum Clamp
Industry standard die-cast aluminum clamp.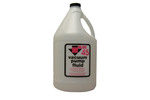 Inland 45 Mechanical Pump Oil
Inland 45 is the highest quality rough pump oil you can use for your mass spectrometer.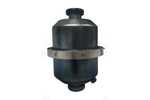 Stainless Steel Oil Mist Eliminator
Hermetic, Sealed, In-line Oil Mist Separator For Mechanical Vacuum Pumps.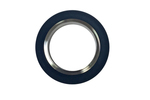 Centering Ring Assembly, 304 Stainless and Aluminum
Available with Viton® or Buna O-ring, this centering ring complete with O-ring should be used when joining any two NW flanges with a quick flange clamp.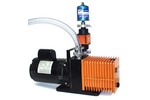 Vacuum Pump Exhaust Filter Kits for Adixen Vacuum Pumps - FK101
Vacuum Pump Exhaust Filters for Adixen Pumps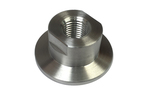 Flange Adaptor to ¼" NPT, 304 Stainless Steel, Brass, Aluminum
In Aluminum, Stainless Steel, and Brass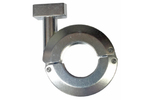 Quick Flange Clamp, Aluminum and Stainless
Quick action aluminum clamp with finger closure "T" knob for positive sealing of NW flanges.