Product ID : JRBPR1
JRBPR1 Backpressure Regulator, variable 15 - 300psi, max. 50C, complete, for liquids only
Description
More details on associated web pages: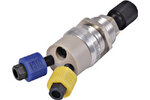 SIS HPLC Backpressure Regulators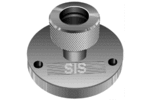 Ion gauge adaptor flange
Use this to adapt ion gauge tubes to a 2 3/4" Conflat flange.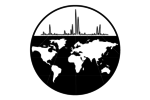 Tungsten Wire, Ribbon, Filament Wire for Electron Emitters, Heater Wire
Buy tungsten wire, ribbon for mass spectrometer heaters here. Choose from varying thickness, Tungsten filament wire sold by the foot.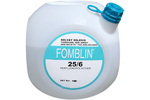 Fomblin® Inert PFPE Vacuum Pump Fluids Y25/6
Fomblin® vacuum pump fluids are non-flammable, chemically inert and thermally stable.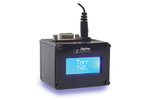 Digivac Bench Top Vacuum Gauge Model 22W
Digivac Vacuum Gauge Model 22W is an ultra compact vacuum transmitter that delivers big results.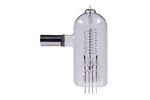 Ion Gauge Tubes, Bayard-Alpert Type
Bayard-Alpert Design and Dual Tungsten or Burn-out Resistant Iridium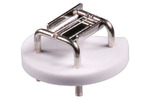 Filament Repair Services for Mass Spectrometers
Mass Spectrometer filaments and heaters can be repaired and restored to a like-new condition at S.I.S.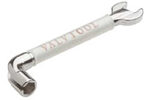 ValvTool - Smart Wrench