Product ID : 2900101
2900101 MEPS BIN, for Thermo Fisher Scientific and CTC Analytic systems Varian 8400, Gauge=23, O.D.=0.63 mm, Phase=C18, Qty. per pack=5
Description
More details on associated web pages:
SGE MEPS™-Micro Extraction by Packed Sorbent

The MEPS product consist of two parts, the MEPS syringe and the MEPS bin. The cartridge contains the SPE phase, and is built into the syringe needle. The bin is used with a 100 µl or 250 µl gas tight MEPS syringe that allows fluid handling at normal SPE pressures.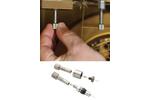 SilTite™ FingerTite GC Ferrules


(SGE)
Next generation ferrule system for gas chromatography systems delivering an easy leak free installation for capillary columns without the use of any tools.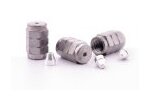 SGE Ferrules for GC
standard graphite ferrules (for GC applications)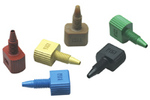 VICI HPLC One-Piece Fingertight Fitting
Works with any 10-32 female port and both metal and polymeric 1/16" tubing.