Product ID : 223766
223766 Wheaton Serum Bottles, Amber, Size (mL)=100, Mouth ID (mm)=13, Mouth OD (mm)=20, Diameter (mm)=52, Height (mm)=95, pkg of=144
Description
More details on associated web pages: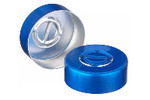 Wheaton Closures - Center Disk Tear-Out
The center disk tears out, exposing the top of the stopper to the syringe. 22418201 : -,22418205 : -,22418206 : -,22418207 : -,22418301 : -,22418305 : -,22418306 : -,22418307 : -,22418701 : -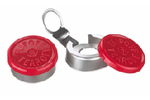 Wheaton Closures - Flip-Off Tear-Off
Flip-Off Tear-Off aluminum seals feature an innovative closure that provides users with an improved tamper-evident package and important consideration for user safety. Seals can be used for center tear-off and complete tear-off applications. The red plastic top will flop off easily with pressure from the thumb. This exposes the aluminum seal with center hole and pull ring. Contents can be accessed by syringe or the seal can be torn off completely by pulling on the center tear ring. This seal ad...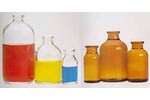 Wheaton Serum Bottles
Available clear or amber.