Product ID : 223762
223762 Wheaton Serum Bottles, Amber, Size (mL)=20, Mouth ID (mm)=13, Mouth OD (mm)=20, Diameter (mm)=32, Height (mm)=58, pkg of=288
Description
More details on associated web pages: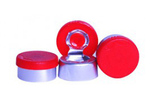 Wheaton Closures - Flip-Off Center Tear
These seals are easy to use, autoclavable and tamper-evident. Push upward on the red plastic button to access the stopper or septum. There are no sharp metal edges to cut fingers or gloves. Plus, you can remove the Flip Cap button with one hand, freeing the other for the syringe. 224202 : -,224203 : -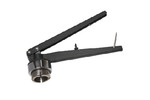 Crimpers by Wheaton
These crimpers are used for flip cap seals and aluminum seals larger than 20mm. 224322 : E-Z Crimpers Flip Cap Seals, Size=13mm,224323 : E-Z Crimpers Flip Cap Seals, Size=20mm
Wheaton Serum Tubing Vials
Vials have blowback feature in neck and bottom radius where freeze-drying applications are indicated.