LEGACT PRODUCT NOTICE:
This is a legacy product, as it is no longer developed by Palisade and support is minimal. We instead recommend the NIST MS Search and NIST AMDIS programs included in the
NIST MS Library
for most library searching needs. The following page is provided for historical reasons or for anyone you may still need to acquire the BenchTop/PBM product for special circumstances. Contact us about your requirements. Note that NIST or commercial libraries require a special conversion to SPC format before use inside BenchTop/PBM.
Summary
BenchTop/PBM is a Windows-based library search system that performs computerized identification of mass spectral unknowns against reference libraries of mass spectra. It features a Probability Based Matching (PBM) algorithm that can perform sub-second searches of large databases (e.g. Wiley Registry), probability ranked match reliabilities, graphic display of chromatogram+MS data and search results, and graphic display of chemical structures. In addition, the BenchTop/PBM system contains a flexible parametric retrieval browser to query and view MS libraries.
Key Benefits
View and identify unknown spectra from virtually any mass spectrometer.
Probability Based Matching - Rapid and reliable search results with match probability and structure display.
Create and search against libraries of MS reference spectra (such as NIST, Wiley, and user-supplied libraries). Note: MS reference libraries are sold separately.
Includes a browser application to locate and display spectra/structures with a powerful parametric query capability.
Compatibility with a wide variety of data formats. Displays and identifies unknown data from virtually any mass spectrometer including Agilent, Thermo Finnigan, Micromass, Perkin-Elmer, Varian and others instruments (based in part on MassTransit technology).
Description
The BenchTop/PBM Mass Spectrometry (MS) library search system is a reference library software that provides the powerful Probability Based Matching (PBM) search algorithm. Directly compatible with data from virtually any mass spectrometer (see Table 1), BenchTop/PBM search results are rapid, reliable and consistent, enabling BenchTop/PBM to perform an entire laboratory's unknown analyses regardless of the different mass spectrometer data sources.
In addition to proven PBM identification capabilities, BenchTop/PBM includes a host of options to provide user flexibility for data viewing and manipulating, PBM search refinement, custom library maintenance and Reference file browsing/querying.
GC/MS Display

Total Ion Chromatograms
Selected Ion Chromatograms
Chromatogram Zoom/Restore
Peak Averaging
Background Subtraction
Full Spectrum Display
Mass Scan w/ Instant Update
Mass Scan Zoom/Restore
Windows Copy/Paste
X, Y Scaling
Chemical Structure Display
Copy/Paste, Multiple Report Formats

PBM Search

Forward/Reverse Search Modes
Reliability Ranked Hit List
<1 Sec Search Time (Pentium)
Quadratic Scaling
Tabular/Graphic Search Results
Universal Data Compatibility
Adjustable Search Depth
Chemical Structure Display
Auto Peak Detection/Selection
Queued Searching
Copy/Paste Multiple Report Formats

Reference Browser

Name Prefix Query
Tabular/Graphic Spectrum Display
MW Query
CAS/Serial Query
Chemical Structure Display
Full/Partial Formula Query
Neutral Loss Query
User Library Create/Maintain
Name Fragment Query
Peak m/z and Abundance Query
Copy/Paste, Report Printing
BenchTop/PBM MS Library Search System includes
BenchTop/PBM v3.5 Windows Application
Mass Spectral Browser Windows Application
User's Guide
Note: Mass Spectral reference libraries for use with BenchTop/PBM must be obtained sparately. For example, the Wiley libraries and NIST may be used (but must be converted to PBM format first), as well as customer user-supplied libraries.
BenchTop/PBM Data File Read/Display/Search Capability
(Note: this list may not be up-to-date.)
| | | | |
| --- | --- | --- | --- |
| Anelva AGS-7000 | Finnigan SSX | JEOL DA5000 | Netzsch |
| Anelva DOS | Fisons/VG 11-250 | JEOL DA6000 | Palisade |
| Balzers QuadStar 420 | Fisons/VG JCAMP | JEOL GCMate | Perkin-Elmer Qmass 910 |
| Balzers QuadStar 421 | Fisons/VG LabBase/Trio | JEOL JCAMP | Perkin-Elmer TurboMass |
| EPA | Fisons/VG MassLab | JEOL MARIO | Shimadzu PAC200 |
| Extrel Merlin | Fisons/VG Thermolab | Kratos DS90 | Shimadzu QP5000 |
| Finnigan GCQ | Hitachi NEC9810 | Kratos/MSI MACH3 | Shrader System |
| Finnigan Incos | Hitachi 3DQ | Mass Evolution | Shrader for Windows |
| Finnigan ITS80 | HP ChemStation | MassLib JCAMP | Teknivent Vector/1 |
| Finnigan ITS40 | HP RTE | Nermag Automass | Teknivent Vector/2 |
| Finnigan Magnum | JEOL Automass | Nermag SIDAR | Text |
| Finnigan MassLab | JEOL Complement | netCDF | Varian Saturn |
Screenshots

Figure 1. BenchTop/PBM displaying an unknown mixture (HP ChemStation data).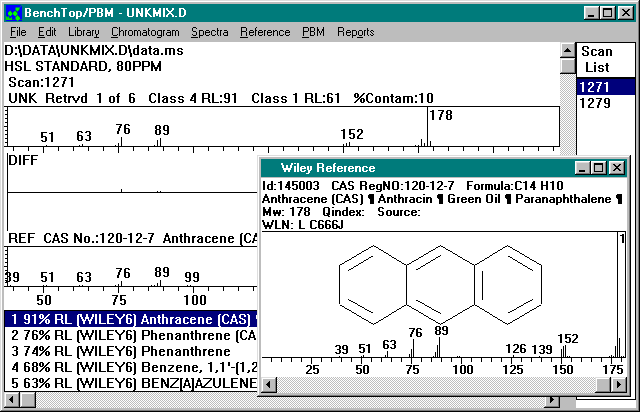 Figure 2. BenchTop/PBM identifies components of the complex mixture.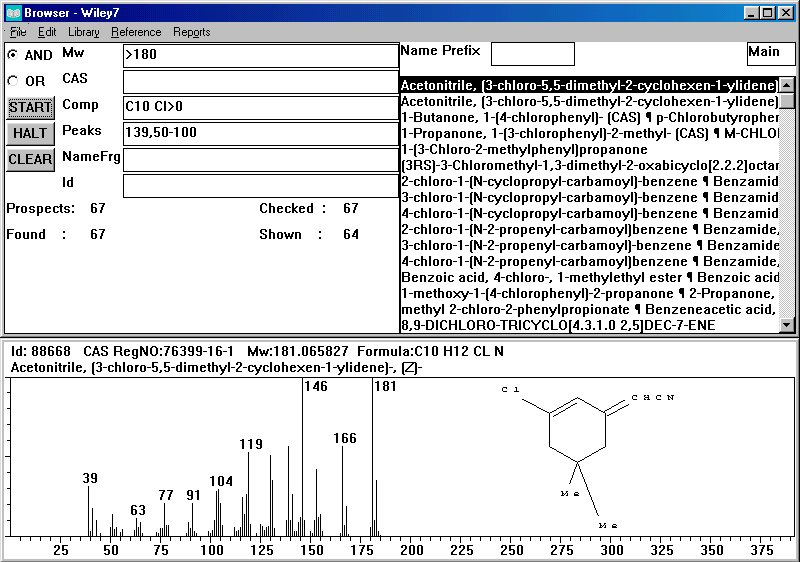 Figure 3. Browser Query
System Requirements
Microsoft Windows 9x/2000/NT or above.
Part No.
Description
Quantity
In Stock
Price
EA
Order
US223204000EN
BenchTop/PBM MS Search system (Palisade)
INACTIVE
---
---
* Call for availability.
Ordering information. International (non-US) prices available through your local dealer.