Product ID : PSTCHCRC
PSTCHCRC COLUMN HEATER CONTROLLER WITH REMOTE SWITCHING OF HI-LOW TEMPERATURES USES THE CONTACT CLOSURES OF THE MS OR LC FOR SWITCHING THE COLUMN HEATER BETWEEN HIGH & LOW TEMPERATURS.
Description
More details on associated web page: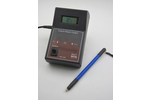 Phoenix S&T NanoLC Column Heater and Temperature Controller
Phoenix S&T's column heaters and controller are designed to fit seamlessly into your nanoLC-MS workflow. Increases resolution and throughput especially for hydrophobic peptides.