Product ID : FILREPYA
FILREPYA Filament repair with SISAlloy[R] yttria/rhenium alloy wire + yttria coating
Description
More details on associated web page: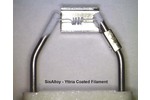 Long Life Yttria Coated SISAlloy® (Yttria/Rhenium Alloy) Mass Spec Filaments
SIS can repair your filaments with our non-sagging filament wire (SISAlloy® yttria/rhenium alloy with yttria coating). Users have experienced filament lifetime increases of 2 to 3 times compared to the standard uncoated rhenium filaments.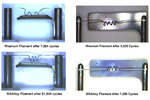 SISAlloy® Yttria/Rhenium Alloy MS Filaments
SIS introduces their new Yttria Rhenium alloy filament wire. In these studies we have discovered that by alloying Rhenium with a small concentration of Yttria, the crystal structure of the rhenium material was altered, which resulted in a stronger filament that is much less susceptible to warping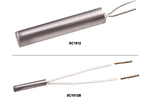 Thermo Incos 50, 50B, XL and 500 Source Heaters
This 8 watt, 24 volt source heater cartridge for the Finnigan MAT Incos 50 Source measures 3/16 inch in diameter by 1.0 inch long.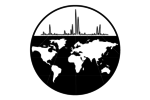 Platinum Wire and Ribbon
Platinum Wire is used in many applications including gasket or o-ring fabrication, thermocouples, electrical contacts, and heater coils.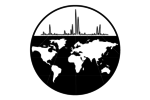 Platinum Wire and Ribbon for CDS Pyroprobe
For those users who have their own spotwelder, we offer the platinum wire and ribbon from which you can make your own heater coils or ribbons for the CDS pyroprobe. W214 : -,W215 : -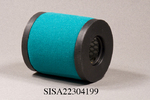 SIS Replacement Elements For Edwards Oil and Odor Filters - EMF20
SIS Replacement Elements For Edwards Oil and Odor Filters at a low cost.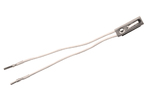 Agilent 5973/5975 Source Temperature Sensor by SIS
SIS offers a direct replacement for Agilent p/n G1099-60104. Same performance at a fraction of the cost