Product ID : 000301
000301 6.5 mm OD barrel, Syringe Code=0.5BNR-5BV, OD(mm)=0.63, Needle Length=50, Tip Style=Bevel, Volume=0.5 µL, Gauge=23
Description
More details on associated web pages:
SGE NanoVolume Syringes

NanoVolume syringes have the ability to inject down to 50 nL with high precision and accuracy ensures SGE NanoVolume syringes are perfect for NanoVolume capillary chromatography injection and applications requiring small volumes.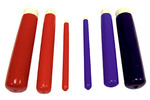 Spun Fiberglass Cleaning Brushes
Fiberglass brushes are manufactured from spun glass in two grades of material - coarse and fine.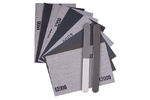 Micro-Mesh® Sheet Kits
Micro-Mesh® Craftsman Kits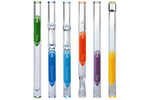 SGE GC Injection Port Liners
SGE offers a wide variety of injection port liners.