Description
SIS does not sell new heater assemblies, but we can make your old one as good as new by replacing the hearter cartridges and temperature sensor.
Part No.
Description
Price
EA
Order
REP20
Thermo HTR repair - replacing the heater cartridges for the DSQ, DSQII, and GCQ sources
$325.00
REP21
Thermo sensor repair - replacing the PRT for the DSQ, DSQII, and the GCQ sources
$175.00
* Standard lead-time for non-stock items is approximately two weeks depending on the item.
Ordering information. International (non-US) prices available through your local dealer.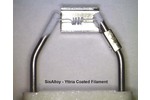 Long Life Yttria Coated SISAlloy® (Yttria/Rhenium Alloy) Mass Spec Filaments
SIS can repair your filaments with our non-sagging filament wire (SISAlloy® yttria/rhenium alloy with yttria coating). Users have experienced filament lifetime increases of 2 to 3 times compared to the standard uncoated rhenium filaments.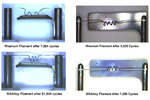 SISAlloy® Yttria/Rhenium Alloy MS Filaments
SIS introduces their new Yttria Rhenium alloy filament wire. In these studies we have discovered that by alloying Rhenium with a small concentration of Yttria, the crystal structure of the rhenium material was altered, which resulted in a stronger filament that is much less susceptible to warping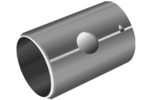 Thermo/Finnigan Source Ion Volume Cleaning
Sources can be cleaned and polished to restore them to a like-new condition.