Product ID : REP211
REP211 Options=Replacement of one feedthru on flange. REP212 Options=Replacement of two feedthrus on same flange
Description
The feedthrus on the 5971 analyzer top plate can be replaced by S.I.S. These feedthrus are very fragile and susceptible to damage. Repair includes drilling out the old feedthru, TIG welding a new feedthru in place, and helium Leak Testing of repaired feedthru. This repair requires returning the analyzer top plate.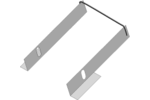 Agilent/HP MS 5970 MSD® and 599X Series Filament
New filaments for your Agilent 5970 MSD.