Description
The ion volume for the Finnigan MAT 4500 and other model sources can be cleaned and polished to restore them to a like-new condition. Our procedures include polishing and buffing with fine abrasives to attain a bright polished metal surface, followed by thorough solvent cleaning to remove all residues.
Part No.
Description
Price
EA
Order
REPIV
Ion Volume Cleaning
$29.00
* Standard lead-time for non-stock items is approximately two weeks depending on the item.
Ordering information. International (non-US) prices available through your local dealer.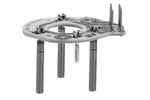 Thermo GCQ/DSQ & DSQII Source Heater Repair
Heater Repair for GCQ and DSQ