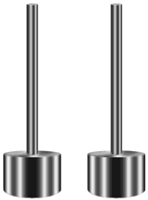 490-223 (Repair Only) Standard - New and Repaired
These new S.I.S. manufactured MAT 311 compression stamps are constructed from stainless steel and come complete with a new gold sealing ring attached. (MAT #490-768)
Repair
Compression stamps #490-768 and #490-223 are repairable as well. Our repair includes regrooving, cleaning, and polishing of the stamp and setting a new gold sealing ring.
Part No.
Description
UOM
Price
Order
490768
New #490-768 Compression Stamp
EA
CALL
REP97
Repair of One Compression Stamp
EA
CALL†

6 or more: 5% off.

REP976
Repair of Six Compression Stamps
PK
CALL
† Quantity discount 6 or more: 5% off.
* Standard lead-time for non-stock items is approximately two weeks depending on the item.
Ordering information. International (non-US) prices available through your local dealer.