Low Density Polyethylene (LDPE) Dispensing Bottles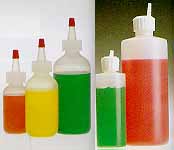 Available with tip-seal or spout seal caps.
Ideal for field sampling and general lab use
Easily transportable from the field to the lab
Manufactured by Wheaton to the highest standards of quality and precision
Convenience packed - 1-4 dozen bottles per carton
Closures are attached in our Cleanpack facility ensuring safety and cleanliness
---
With Tip-Seal Caps
Squeezing bottles produce steady stream of liquid. Red tip seals a linerless cap.
---
With Spout-Seal Caps
Raise spout to vertical position to dispense contents in a steady stream. Depress spout to seal bottle.
Other pages linking here:
Covers SIS products, services, promotions, news, and other mass spectrometer related information.