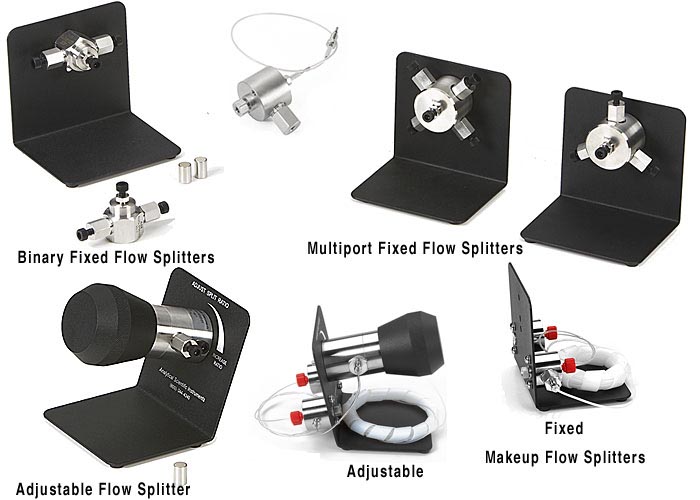 The ASI QuickSplit™ Flow Splitter is very elegant in its simplicity. Split ratios are created by two or more fluid resistors that form a parallel flow path. QuickSplit Flow Splitters are available with a fixed or adjustable split ratio. Interchangeable fluid resistors make it easy to change split ratios quickly, eliminating tedious adjustments to capillary tubing. The technology can be applied to all applications where a controlled, reproducible split ratio is required including LC/MS, flow fractionation, pre/post-column flow spitting, mass directed fraction collection, and capillary chromatography. ASI QuickSplit Flow Splitters com in flow rate ranges which make them compatible with micro, analytical, semi-preparative, and preparative HPLC flow rates.
QuickSplit™ Flow Splitter Features:
Fluid resistor technology eliminates tedious adjustments to capillary tubing for split ration optimization
Split ratios are stable and reproducible, and not affected by changes in viscosity or pressure
Adjustable metering valve enables precise direct control over split ratios.
Easy to use interchangeable fluid resistors make it possible to achieve split ratios from 1:1 to 20,000:1
Rugged stainless steel construction for high pressure operation
Ultra low dead volume fluidic design
Applications include LC/MS, pre/post-column flow splitting, and flow fractionation
Multiport flow splitter diverts the inlet flow into 3 or 4 channels for applications that employ multiple detectors and/or a fraction collector
Makeup flow splitter for mass directed fraction collection
---
Covers SIS products, services, promotions, news, and other mass spectrometer related information.