SIS Short Path Thermal Desorption Systems
Short Path Thermal Desorption Systems for the analysis of volatiles and semi-volatiles by GC and GC/MS.
Systems
General References
SIS Catalog
Our thermal desorption units sit directly on top of a GC injection port to provide for the direct desorption of both volatile and semi-volatile samples into the GC injection port and column. Due to the "short path" of sample flow, these new systems overcome the shortcomings of previous desorption systems by eliminating transfer lines, which are easily contaminated by samples, and by providing for the optimum delivery of samples to the GC injector via the shortest path possible--the direct, syringe-like injection into the GC. Two models are available: our single-sample TD-5 system, which can be used on many GCs, and our multi-sample AutoDesorb system, which integrates with the Agilent (HP) 6890/5890 GCs. Both systems are operated from our Windows-based thermal desorption control software with optional ChemStation integration.
| | |
| --- | --- |
| TD-5 -- for single-sample analysis in conjunction with a variety of GCs. | AutoDesorb Model 2000 -- for unattended analysis of up to 12 samples using an Agilent 6890 or 5890 GC. |
References

There is also a Thermal Desorption section in our catalog.

Applications of Thermal Desorption

Thermal Desorption (Purge & Trap)

Environmental Air Analysis
Flavor and Fragrance Analysis
Off odor/Off-Flavor analysis
Forensic Arson Analysis

Residual Gas, Solvents and Chemicals in

Pharmaceuticals
Packaging Materials
Building Products
Food Products
Natural Products

Direct Thermal Extraction of

Plastics
Synthetic Fibers & Materials
Spices
Natural Products
Pharmaceuticals
Finished Products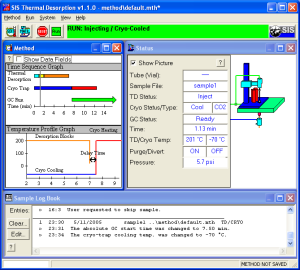 Figure: The TD5 and AutoDesorb are both controlled by thermal desorption software on the PC.
Other pages linking here:
Covers SIS products, services, promotions, news, and other mass spectrometer related information.