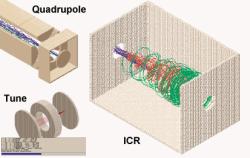 SIMION® 8.1 Ion and Electron Optics Simulation Software
The Industry Standard in Particle Optics Simulation Software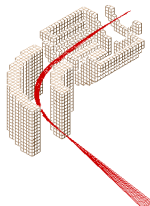 SIMION Version 8.1 is a software package primarily used to calculate electric fields and the trajectories of charged particles in those fields when given a configuration of electrodes with voltages and particle initial conditions, including optional RF (quasistatic), magnetic field, and collisional effects. In this, SIMION 8.1 provides extensive supporting functionality in geometry definition, user programming, data recording, and visualization. It is an affordable but versatile platform, widely used for over 30 years to simulate lens, mass spec, and other types of particle optics systems.
Applications: SIMION 8.1 is suitable for a wide variety of systems involving 2D or 3D, static low-frequency (MHz) RF fields: from ion flight through simple electrostatic and magnetic lenses to particle guns to highly complex instruments, including time-of-flight, ion traps, quadrupoles, ICR cells, and other MS, ion source and detector optics.
SIMION 8.0 / SIMION 8.1
SIMION® 8.1

The Industry Standard in Particle Optics Simulation Software Description Design new instruments or improve the sensitivity of existing instruments. Mass spectrometers and other ion optics lens systems. Calculate electric and magnetic fields from 2D & 3D models Calculate charged particle trajectories Visualize, optimize, and analyze results Extensible user programming for crazy flexibility. Free basic tech support, phone/e-mail/message board. Widely commercially and in academia, including by
Software for Mass Spectrometry and Scientific Applications from SIS

Charged particle optics simulation with SIMION® 3D. Identify your mass spectra with NIST and Wiley database. Convert your spectra with GC/MS file converters.

Note 53: SIMION 3D v6.0 Ion Optics Simulation Software

Study of Ion Optics using the Simion 3D sopftware package

SIS Mass Spec Source Newsletter, May 1996

VOL. XXI, NO. 1 May 1996 Contents 1. ASMS 96 Meeting in Portland Oregon 2. SIS Poster Presentations at the 1996 ASMS Meeting 3. SIS Hospitality Suite at the 1996 ASMS Meeting 4. SIS on the World Wide Web 5. New Micro Cryo-Trap 6. SIS Now Distributes Edwards Vacuum Pumps 7. Free Catalog of Scientific, Engineering and Technical Software 8. SIMION 3D Electron Ion Optics Software - Now Available from SIS ASMS 96 Meting in Portland Oregon Scientific Instrument Services will once again be present at

Note 52: Computer Modeling of Ion Optics in Time-of-Flight mass Spectrometry Using SIMION 3D

Computer Modeling of Ion Optics in Time-of-Flight mass Spectrometry Using SIMION 3D

Mass Spectrometry (MS) Supplies and Services from SIS

MS supplies and services including new and repaired filaments, source cleaning, electron multipliers, heaters, temperature controllers, probes, vials, calibration compounds, ceramics, Micro-Mesh® abrasives, cleaning supplies, SIMION®, and NIST (mass spectral library).

SIS on the Web, Report and Statistics

Scientific Instrument Services on the World Wide Web Scientific Instrument Services introduced its WEB site in September 1995. Since that time the usage of the information our our site has continued to grow as more chemists and technicians gain access to the WEB and the resources that are found here. The initial goal of our WEB site was to make information available to our customer base. This includes the Application Notes that we have written on Mass Spectrometers and Thermal Desorption Systems

What's New - 1/00 through 12/01

Posted 5/03/01 SIS at the ASMS meeting in Chicago - Annual SIS Ice Cream Hospitality Suite SIS will be attending the ASMS meeting on May 27 to May 31, 2001 at the Hyatt Regency Hotel in Chicago. Stop by the SIS Booth during the meeting, The Tradition Continues at ASMS Once again we will be sponsoring our Ice Cream Sundae Hospitality Suite at the Atlanta room in the Hyatt Regency Hotel. We will be serving ice cream sundaes from approximately 7:30 p.m. until 9:30 pm, on Monday, Tuesday and Wednes

What's New - 1/97 through 12/97

Posted 9/1/97 Chemical Reaction Interface Mass Spectrometry (CRIMS) Scientific Instrument Services is currently developing both GC and LC CRIMS systems. These products are based on the work and methods of Fred Abramson of George Washington University. The GC CRIMS system has been built and is currently being tested in our laboratory. The GC-CRIMS systems will be introduced at the EAS meeting in Sommerset, NJ in November and will available for delivery this fall. Over the next few months we will

What's New - 1/1/96 through 6/30/96

Posted 4/29/96 SIS Mass Spec Source Newsletter - On Line - May 1996 The May 1996 issue of the SIS Mass Spec Source Newsletter was just mailed to our customers on May 25, 1996. In addition we are making the contents available on the Internet. The format is slightly different, but all the information and much more is present here. Posted 4/29/96 ASMS 96 Meeting in Portland Oregon Scientific Instrument Services will once again be present at this years ASMS meeting. The meeting will be held the wee

SIS Mass Spec Source Newsletter, June 2001

VOL. XXIII, NO. 1 Scientific Instrument Services, Inc. June 2001 This is the first edition of the SIS Mass Spec Source Newsletter via our Web Site. We anticipate that we will send this communication out once every 2 months. In it we will keep you informed of news at SIS, trade shows that we will be attending, new products being introduced and promotions on products. To receive your copy of this newsletter or to get on our mail list, please fill out our survey form. You are being sent this newsl

Free Online Tools for Mass Spec Users from SIS

Online tools for mass spectrometer users. Includes isotopic profile calculators, exact mass calculators, and periodic table.