Home
▶

Measurement

Traps

Attachments

Noise

Print Catalog

▶
O-Rings
Material for O-Rings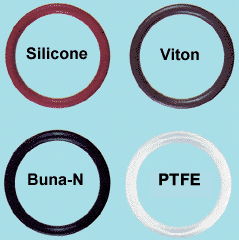 O-Ring Types Available
O-Rings are available in five different polymer materials as well as Gold and Platinum from Scientific Instrument Services. For a complete description of each of the types, select the type of material listed above.
O-Ring Dimension and Availability Charts
O-Rings are available in sizes (sizes 0, 1, 2 and 3) which correspond to the diameter of the cross section of the O-Ring. Within these groups the O-Rings are classified according to their inside diameter. In addition O-Ring Kits of the most popular sizes of O-Rings are available in both Buna and Viton®. If the size you require is not listed, it may still be available. Contact us with your requirements.
Industry

Sizes

Cross Section

Diameter (in.)

Minimum Inside

Diameter (in.)

Maximum Inside

Diameter (in.)

Size - 0
0.04 to 0.07
0.031
5.25
Size - 1
1/16 (0.063)
0.0625
9.75
Size - 2
1/8 (0.125)
0.1875
18
Size - 3
3/16 (0.188)
0.4375
11.5
Comparision of O Materials Used in the Construction of O-Rings
Each type has its advantages and disadvantages as listed in the chart below, and the type required depends on the O-Ring application. Of the various types of O-Rings available from SIS, Viton® is the most popular for mass spectrometers and other laboratory instruments. This is due to Viton®'s high temperature stability and good resistance to chemicals and ozone. Gold gaskets are used to make high vacuum and high temperature seals on vacuum flanges.
Property
Buna-N
Viton®
Silicone
PTFE
Kalrez®
Part No. Prefix
B-
V-
S-
T-
K-
Tear Resistance
Good
Good
Poor
Excellent
Good
Abrasive Resistance
Good
Good
Poor
Excellent
Good
Ozone Resistance
Poor
Excellent
Excellent
Good
Excellent
Weather Resistance
Fair
Excellent
Excellent
Good
Excellent
Heat Resistance
Fair
Excellent
Excellent
Good
Excellent
Chemical Resistance
Fair
Excellent
Good
Excellent
Excellent
Oil Resistance
Poor
Excellent
Poor
Good
Excellent
Acid Resistance
Fair
Excellent
Good
Excellent
Excellent
Alkali Resistance
Good
Good
Fair
Excellent
Excellent
Steam Resistance
Fair
Fair
Poor
Good
Excellent
Minimum Usable Temp
-65 deg F

-54 deg C

-65 deg F

-54 deg C

-120 deg F

-85 Deg C

-110 deg F

-79 deg C

-35 deg F

-37 deg C

Maximum Usable Temp
300 deg F

150 deg C

500 deg F

260 deg C

450 deg F

232 deg C

500 deg F

260 deg C

550 deg F

288 deg C

Color
Black
Black
Red
White
Black
Impermeability
Fair
Good
Poor
Excellent
Good
Tensile Strength
Good
Good
Poor
Excellent
Good
---
Kalrez® and Viton® are registered trademarks of E. I. DuPont de Nemours