300 ml Black B.O.D. Bottle
With Glass "Robotic" Stopper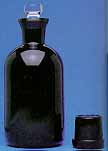 This is a standard 300 mL B.O.D. bottle with a heavy coating of black PVC plastic that blocks all visible light up to 800 nm. This inhibits the production of oxygen by algae. This bottle is recomended for use in marine photosynthesis projects where a comparison of oxygen in a light and dark bottle is required. This is supplied complete with a glass robotic stopper and an opaque black cap.
Ideal for field marine photosynthesis projects
Easily transportable from the field to the lab
Manufactured by Wheaton to the highest standards of quality and precision
Convenience packed - 1-4 dozen bottles per carton
Closures are attached in our Cleanpack facility ensuring safety and cleanliness
Other pages linking here:
Covers SIS products, services, promotions, news, and other mass spectrometer related information.