NIST Gas Chromatography (GC) Library with Search Software - New 2011 Version
A library of 70,838 chemical compounds analyzed by gas chromatography, including 346,757 GC method and retention index citations from literature.
Newly Released -- November 2011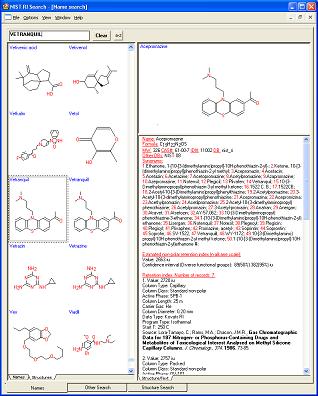 Figure: screenshot of browsing the NIST GC database using included search program (larger screenshots are below)
Main capabilities:
Search for compounds based on name, CAS number, chemical formula, elements present, fragment name, or retention index range. It also supports structure similarity search to locate related compounds similar in structure to given compound in the database (or imported .MOL chemical structure file), sorted by degree of similarity each with displayed structure.
View information on a compound, such as name, synonyms, formula, and MW, along with a list of GC methods previously used to analyze that compound (GC column type, GC method conditions, measured retention index (RI), and literature citation with paper title).
Locate GC methods by filtering the GC data set by column and program type or search by keyword (e.g. those containing a certain food in the literature title).
Predict retention indices (RI) from the cited values of the given compound or structurally related compounds in the database. Both experimentaly measured RI values and those estimated based purely on structure are provided. The software can also predict retention indices from an unknown imported chemical structure (.MOL file, which requires having an external structure drawing program).
Specifications:
| | | |
| --- | --- | --- |
| | NISTGC 2011 | NISTGC 2008 |
| # of index values | 346,757 | 224,038 |
| # of compounds (*) | 70,838 | 44,008 |
| # of references cited | 5,368 | 4,632 |
(*) Each with name, synonyms, chemical formal, chemical structure diagram, number (e.g. CAS).
Database contains 70,838 compounds common in GC analysis. Each has a name, synonyms, chemical formal, MW, chemical structure diagram, ID/CAS number, and one or more GC data sets (GC column type, GC method conditions, retention index, and literature citation pertaining to the compound). There are 346,757 retention index values total.
Included search program to search, browse, and view the database (screenshot).
The database and search program are a subset of the renowned NIST 11 (NIST/EPA/EPH) Mass Spectral Library. It differs in that it contains only the GC information (no MS information), is under one-fifth the cost, and the search program is a bit more streamlined for GC data searching.
Database Description
The NIST Retention Index Database provides retention index data and gas chromatographic conditions for 70,838 compounds on polar and non-polar stationary phase used with packed and open tubular columns.
The Database contains a total of 346,757 citations (retention index values and GC methods). Each citation contains the complete bibliographical information and title of the research paper it was taken from. Details of the gas chromatographic method used to obtain the retention index are also provided. If a compound is in the NIST/EPA/NIH Mass Spectral Database (NIST11), it is so noted in the text information provided about the compound. There are 38,648 such compounds.
Many of the compounds are indexed by multiple names (Synonyms). All the compounds are indexed by elemental composition (Formula), nominal mass (MW), Chemical Abstracts Services registry number (CAS#), and a sequence number corresponding to their position in the NIST Retention Index Database (ID#).
In addition, estimated non-polar retention index (n-alkane series) values, based on structure, are provided for each compound.
Search Program Description
A search program (nistmsri.exe) is included for browsing, searching, and viewing the database (screenshots below).
Data can be retrieved through an incremental name search, a CAS# search, a MW search, a formula search, or a structure search. In addition, the database can be searched by multiple variables that can be used to constrain the above-mentioned searches. A search can be performed over a molecular weight (nominal mass) range. A search can be constrained to the elements present and/or the number of each element present. Searches can be constrained for name fragments present in the main database name and in the synonym list.
The search results for individual hits can also be constrained according to column type (packed or capillary), stationary-phase type (polar or non-polar), GC temperature conditions (isothermal or temperature programmed), and/or retention index type (Lee or Kovats).
The program has three tab-activated windows, each window having its own specific functions: Names Window (where searches by compound name (main database name) or synonym are carried out); Other Search Window (which is used for Formula, CAS#, MW, or the Sequential Method searches); and the Structure Search Window (where a list of compounds is produced that have a similar structure to a submitted structure).
The general features of all windows are described in more detail in the program help file.
Screenshots / Examples
The following screenshots illustrate basic usage of the search program. The program contains three tabs at the bottom for selecting different modes of searching and browsing. Each tab has multiple panels to display data.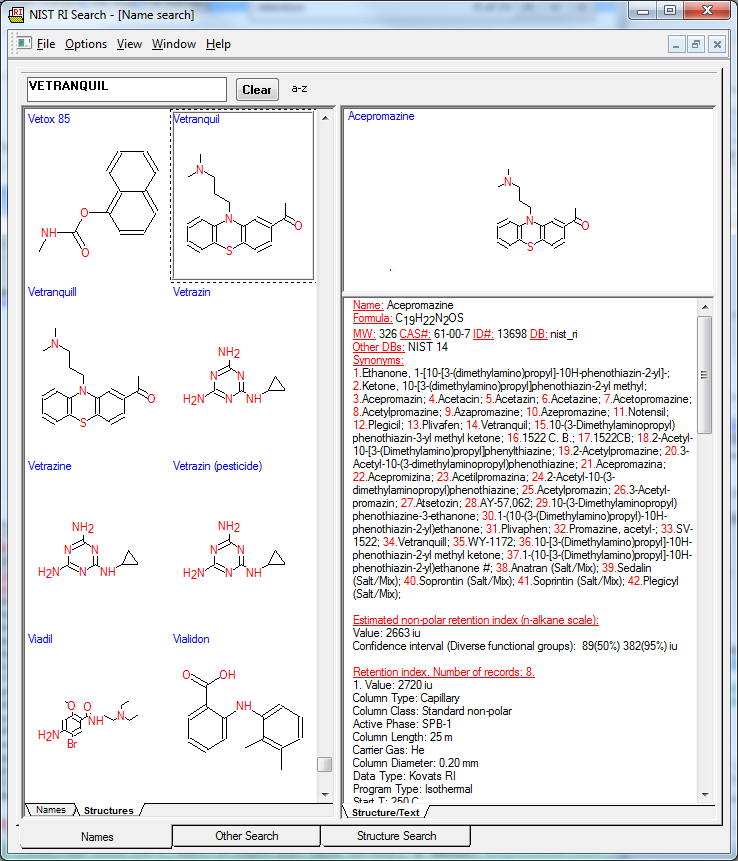 Figure: Typing the first letters of the name "Vetranquil", or any synonym, brings up a list of similar names and chemical structures (left). Selecting one of these compounds brings up details on the compound (right).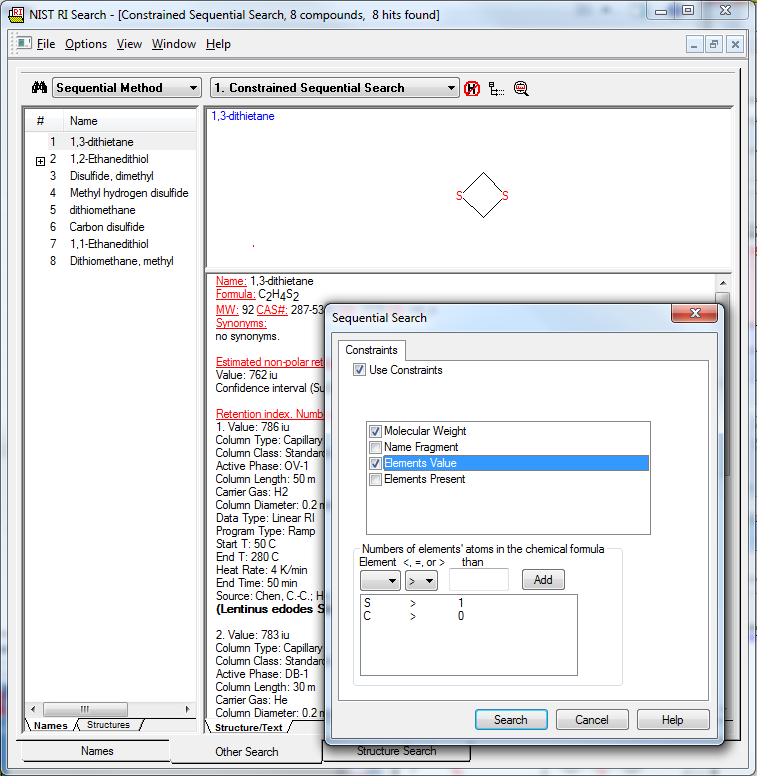 Figure: Other more advanced search filters can be constructed. Here, we list all compounds with molecular weight between 50 and 100 u, with more than 1 sulfur atom, and with more than 0 carbon atoms. The "Name Fragment" option also allows some filtering by chemical group (for instance, to limit the search to alcohols, specify the fragment name "ol".)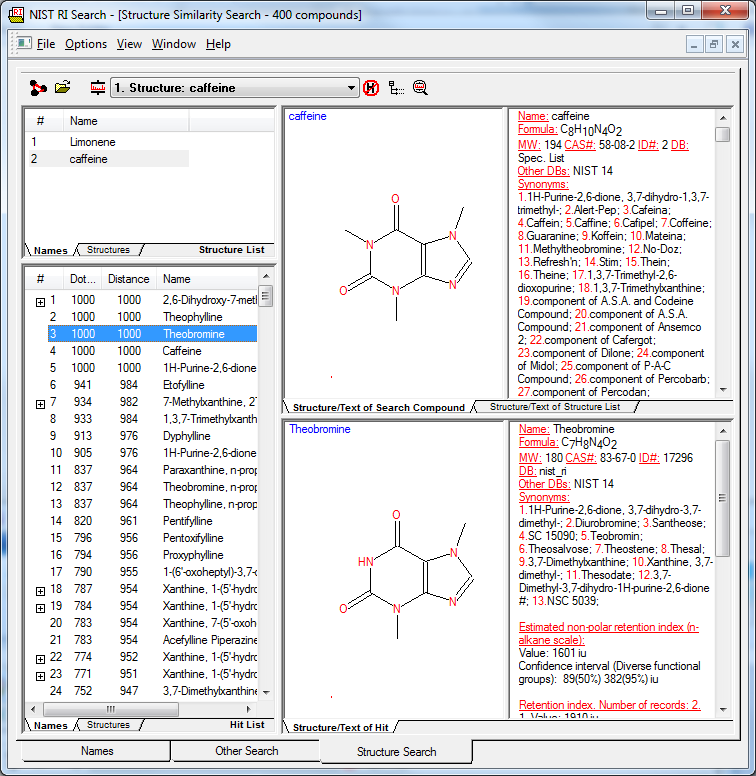 Figure: The structure similarity search option displays a list of all compounds with a structure similar to the selected compound, ranked by similarity ("distance"). Here we see that caffeine is structurally similar to a number of compounds, including theobromine (differs only by a CH3 group).
Quality / Source
The NIST GC Database was developed by the same people at the National Instruments of Standards and Technology (NIST) who brought you the NIST 08 (NIST/EPA/EPH) Mass Spectral Library. Most index values were abstracted from the open literature and then compared to replicate values (average of 10 per compound) and estimates to find and remove errors.
System Requirements
The NIST GC Retention Index Search Program is compatible with Windows XP SP2, Vista, and 7.
Which GC datasystem you have does not matter. Unlike the full NIST 08 database, the NIST GC library software does not need to interface to GC data systems (e.g. ChemStation, Xcalibur, Saturn, etc.).
The database and software use 270 MB of disk space.
Demo
There is no demo of the NIST GC library itself. However, you may instead try out the demo of the full NIST MS (plus GC) library. The NIST GC library is a subset of the database and search software in the full NIST MS library--it contains only the GC parts as shown in the above screenshots and only contains compounds with GC retention indices. Furthermore, the demo version contains a much smaller database than the full version. Therefore, the demo is only intended to provide a general idea of the user interface and operation.
Package Contents
Package consists of one CD containing the installer for the database and software program. The documentation is included on the CD and contains a Windows help file.
Ordering Information
Related product: See also the NIST MS Database if you need a library containing both GC and MS information (not just GC).