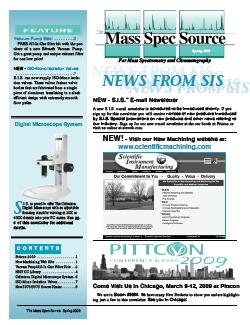 The 'Mass Spec Source' Newsletter
A newsletter designed for the mass spec community.
Published by Scientific Instrument Services, Inc.
Notice: In recent years, we have switched to a e-mail newsletter format. See the Mass Spec Source - E-mail newsletter.
Request your free subscription or read past newsletters online.
Featured Products from S.I.S.
Feature Articles Relating to Mass Spectrometers
Mass Spec Tips
Positions Available
Items for Sale
Workshops
Archives of Old Issues:
Covers SIS products, services, promotions, news, and other mass spectrometer related information.