Hose Adaptor, Aluminum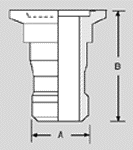 For connecting rubber or plastic hose to NW flanges.
Compatible with most standard vacuum hose diameters (note: you can stretch the heavy wall Tygon and some of the rubber vacuum tubing, but not PVC, to fit).
SIS Catalog Cross Reference
Page #
Part Numbers
F63 - NW Vacuum Fittings
QF10050H, QF16050H, QF16075H, QF25100H, QF40150H, QF50200H
Other pages linking here:
Covers SIS products, services, promotions, news, and other mass spectrometer related information.