Digivac Vacuum Gauge Model 22W
Ultra Compact Vacuum Transmitter Delivers Big Results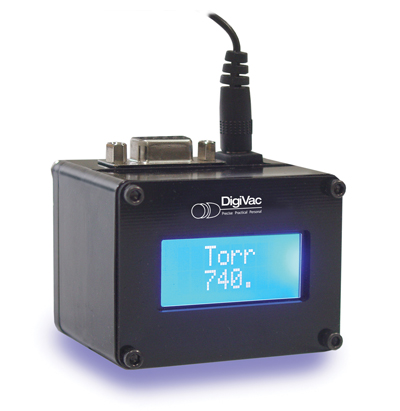 When you need a vacuum transmitter (thermocouple gauge and controller) for tight spaces . . . the Model 22W is for you. No mounting is required. the simple an efficient design with no moving parts gives you a durable and reliable gauge like no other.
The Model 22W measures from 1 micron (1 x 10-3 Torr) all the way up to 760,000 Microns (760 Torr) or Atmosphere. Since this gauge measures through the full range of rough vacuum, you can easily pinpoint either gross or fine process errors or leaks. The Model 22W has a very compact electronic package that fits very well right on top of the vacuum gauge tube. Therefore, there is no need to take up valuable bench top or panel space. To get the vacuum process telemetry you require, simply:
Plumb the vacuum gauge tube in to you vessel
Plug in the 22W on top of the gauge tube
Run the low voltage power wire provided to the gauge
Run the optional digital signals
It is available with an optional output vacuum reading to an RS232 serial and or LCD display. the RS232 output can be used to graph and plot historical data with the Digivac plotting software, and as a vacuum transmitter to a PLC or other device.
Specifications
| | |
| --- | --- |
| Range | .001 - 760 |
| Units | Torr |
| Vac Interface | 1/8" MNPT |
| Sensor | Varian 531 |
| Power | AC |
Vacuum instrumentation with everything you need to go to work
Each DIGIVAC Vacuum Instrument comes with:
A vacuum gauge controller.
A thermocouple vacuum gauge tube (vacuum sensor).
An AC adapter that runs on 100-240VAC, 50/60 Hertz.
Pre-testing under actual vacuum against a NIST standard.
---
---
Other pages linking here:
Covers SIS products, services, promotions, news, and other mass spectrometer related information.