The Varian 800 Series Thermocouple Vacuum Gauge Controls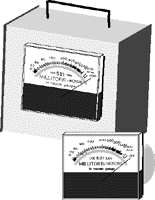 The 800 Series Thermocouple Vacuum Gauge Controls are used for repeatable, stable pressure measurement in the 10 -3 Torr to 2 Torr range. These controls are fully temperature compensated by use of a thermistor placed in the gauge cable socket. The thermal response of the thermistor is equal to, but in the opposite direction from the thermocouple characteristics, thereby compensating for ambient temperature changes.
The 801 Control is compact and lightweight, with three mounting studs to facilitate panel mounting in a minimum of space. The 802A is mounted in a portable enclosure. The 801 and 802A have easy-to-read meter scales, recorder output, and include a 10 ft. gauge cable and one 531 thermocouple gauge tube. It also includes a 6-ft. power cord. All necessary cables are included.
Varian 800 Series, UOM=EA
801
Panel Mount Vacuum Gauge Control
4
4
$275.00
802A
Vacuum Gauge Controller, Mounted
4
1
$335.00
[*L] Standard lead-time for out-of-stock items is approximately two weeks depending on the item.
Ordering information. International (non-US) prices available through your local dealer.
Other pages linking here:
Covers SIS products, services, promotions, news, and other mass spectrometer related information.