Categories:
Digivac Vacuum Gauge Model DVG-6
Ideal Bolt in Replacement for Hastings VT-6, CVT-16, and CVT-26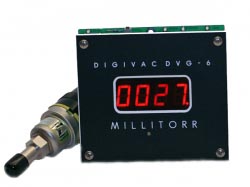 The model DVG-6 is a vacuum instrument that is an ideal replacement for older Hastings Analog meter gauges. The model DVG-6 has the same 4 hole mounting pattern as the Hastings VT-6, so installation is a breeze. This gauge replaces the VT-6, CVT-16, and CV-26. In addition, this instrument is calibrated under real vacuum against a NIST standard, comes with a Hastings DV-6M tube and is available with 1 or 2 controls. The set points are easily set via set screws, and drive relays that are rated for 7 amps and 250 VAC. Besides being a drop in replacement, the DVG-6 offers the advantage of a digital display which eliminates errors from parralax and is easily viewable from across the room. Each gauge is hand calibrated and carries a warranty for 1 year.
Specifications
| | |
| --- | --- |
| Power | AC |
| Vac Interface | 1/8" MNPT |
| Sensor | Hasting DV-6M |
| Range | 0 - 1000 |
| Units | mTorr |
Vacuum instrumentation with everything you need to go to work
Each DIGIVAC Vacuum Instrument comes with:
A vacuum gauge controller
A thermocouple vacuum gauge tube (vacuum sensor)
A cable to connect the vacuum gauge controller to the thermocouple vacuum gauge tube
An AC adapter that runs on 100-240VAC, 50/60 Hertz
Pre-testing under actual vacuum against a NIST standard
---