The Varian Thermocouple Vacuum Gauge Tube Model 531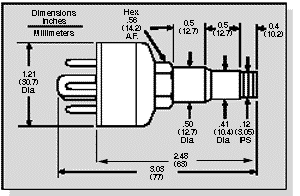 Principles of Operation
Thermocouple gauges measure pressure in terms of the amount of heat that gas will conduct away from a hot wire. The sensing element is a combination heater and thermocouple. Cross-shaped, it is formed by joining two short resistance wires of different compositions, a method of construction which gives excellent shock resistance and yet provides the minimum mass required for fast response. With a fixed heater power, the temperature of the junction, which depends on the conductivity of the gas, is indicated by the voltage output of the thermocouple. As the pressure drops, the thermocouple gets hotter and its output increases. Readout is accomplished on a millivolt meter calibrated to indicate pressure.
General Description
The Model 531 Thermocouple Vacuum Gauge provides continuous and accurate indication of total pressure from 1 x 10-3 to 2 Torr absolute. Developed to combine rugged dependability and outstanding performance, the 531 offers fast response and low power drain.
---
Specifications

Filament Current       165 mA (gives 14 mV across the thermocouple at
                          pressures below 10 -3 Torr)
Response Time          3 sec. (10 -3 to 1.0 Torr) 
Range                  1 x 10 -3  to 2 Torr 
Output                 0 to 14mV
Heater Resistance      1.4 ohms (approx.) 
Dimensions             1.21" O.D. x 3" long
Connections            May be soldered into a system, used with 1/2" '0' ring
                         compression seal or threaded on 1/8" IPS female thread.
Cable Connection       Octal Base (std.)
Casing                 Nickel-plated mild steel 
Pins                   Nickel-iron alloy (Ni 48%, Fe 52%)
Volume/Weight          12cc/2oz.

---
Accessory Equipment
---
F0472301
Varian 531 Vacuum Gauge Tube (Finnigan #00105-02000)
EA
0.25
11
$79.00
[*L] Standard lead-time for out-of-stock items is approximately two weeks depending on the item.
Ordering information. International (non-US) prices available through your local dealer.
Other pages linking here:
Covers SIS products, services, promotions, news, and other mass spectrometer related information.