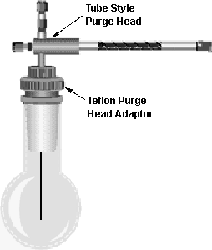 Description
The following glassware can be used in conjunction with the S.I.S. purge head adaptor to permit the use of the S.I.S. tube style liquid purge head for purging liquid and solid samples and trapping volatiles purged from the samples onto the S.I.S. Silco Coated Thermal Desorption Tubes. The following glassware all have 24/40 ground glass necks. The PTFE Purge Head Adaptor seals into this ground glass fitting and its 1/4" diameter 'O' Ring seal accepts the Tube Style Liquid Purge Head. This Tube Style Purge Head described previously permits both the introduction of the purge gas to purge the volatiles from the sample and the trapping of these volatiles on the desorption tubes.
Features
Large selection of round bottom flasks and Erlenmeyer flasks
For use in purging large volume liquid or solid samples
Adapters available for trapping on S.I.S. desorption tubes
Constructed of Borosilicate glass
Flask necks are 24/40 ground glass female fittings
Part No.
Description
Size
Joint Size
Price
EA
Order
LG7220140
Round Bottom Flask
50 mL
---
$29.00
LG7220142
Round Bottom Flask
100 mL
---
$30.50
LG7220146
Round Bottom Flask
200 mL
---
$32.00
LG7220148
Round Bottom Flask
250 mL
---
$35.00
LG7220152
Round Bottom Flask
500 mL
---
$37.00
LG7220154
Round Bottom Flask
1000 mL
---
$45.00
LG7220156
Round Bottom Flask
2000 mL
---
$76.00
428126
Wheaton, Flat Bottom Flask
125 mL
24/40
$28.55†

20 or more: 10% off; 50 or more: 15% off.

428146
Wheaton, Flat Bottom Flask
250 mL
24/40
$29.81†

20 or more: 10% off; 50 or more: 15% off.

428164
Wheaton, Flat Bottom Flask
500 mL
24/40
$32.11†

20 or more: 10% off; 50 or more: 15% off.

635926
Wheaton Erlenmeyer flask
125 mL
24/40
$31.11†

20 or more: 10% off; 50 or more: 15% off.

LG7750130
Erlenmeyer Flask
500 mL
---
$35.00
† Quantity discount 20 or more: 10% off; 50 or more: 15% off.
* Standard lead-time for non-stock items is approximately two weeks depending on the item.
Ordering information. International (non-US) prices available through your local dealer.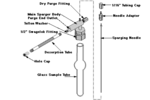 Purge and Trap Stainless Steel Purge Heads
The top fitting of both purge heads consists of a 1/16" fitting for the attachment of the sparging needle followed by needle adaptor to seal the needle in place and provide for the attachment of the purging gas line.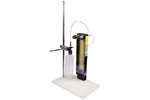 SIS Purge and Trap System
The Purge and Trap System consists of two single-ball rotameters with adjustable needle valve mounted on a nylon plastic base with an 18" long mounting rod support.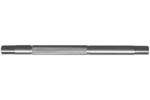 Short Path Thermal Desorption Tubes
After conditioning and sample loading, the ends of the tubes are fitted with stainless steel caps with seals to maintain the integrity of the medium and sample.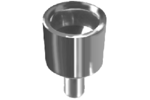 Aluminum Funnel for Loading Packings into Desorption Tubes Small Sample Spatula
For loading small samples into Silco Coated desorption tubes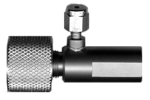 Thermal Desorption Sample Loader
This device is used to inject or load liquid samples directly into the S.I.S. Thermal Desorption Tubes, forcing the syringe contents onto the adsorbent resins in the desorption tube without any loss of sample due to back evaporation.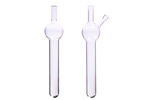 Purge and Trap Glass Tubes, 5 & 25 mL
All tubes are constructed from borosilicate glass with 0.5" O.D. tube ends for mating with standard 1/2" fittings.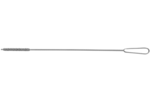 Cleaning Brushes
For cleaning inside Silco Coated desorption tubes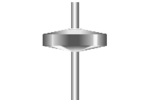 Purge and Trap Sparging Needles
A variety of lengths of the stainless steel sparging needles are available for the S.I.S. Purge & Trap system.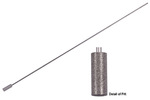 Stainless Steel Metal Frit Spargers for the Purge & Trap System
The stainless steel metal frit spargers have been designed for use with the S.I.S. purge and trap system.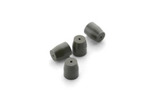 SGE Graphitized Vespel® Ferrules
Vespel® ferrules contain 15% graphite and are ideal for glass and fused silica capillary columns.