Description
The following heater discs and cartridges are used to replace defective units in various diffusion pumps.
Diffusion Pump Heater for use on
Part No.
Description
Price
EA
Order
HDP1
Varian/NRC HS-2,(Finnigan #00108-00501) 240V, 450 Watt Cartridge, 5/8in dia. x 3 1/2in long
$62.00
HDP2
Varian/NRC H4X, VHS4, (Finnigan #00108-04501) 240V, 1450 Watt, Solid Plate, 4 3/4in dia.
$156.00
HDP3
Varian/NRC M4, NHS4, (Finnigan #00108-04601) 240V,1190W S.Plate, 4 3/4in dia.
$156.00
HDP4
Varian/NRC M2, (Finnigan #00108-05501) 240V,450W S.Plate, 4 3/4in dia.
$185.00
HDP5
CVC/PMC 2, 4 and 6, 115V, 300 Watt Cartridge, 3/8in dia. x 4in long
$74.00
* Standard lead-time for non-stock items is approximately two weeks depending on the item.
Ordering information. International (non-US) prices available through your local dealer.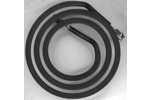 Open Disc, Cartridge and Solid Plate Styles of Diff. Pump Heater
2 different styles for your needs.