Micro-Mesh® Regular Sheets
Micro-Mesh® is available in three grades (Regular - MX - AO), in a wide selection of Grits and in a wide variety of formats including sheets (for convenient use), rolls (for higher volume users), discs (for power tools), belts, tapes and others listed below.
---
Micro-Mesh® Regular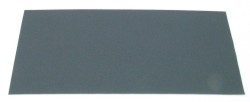 Micro-Mesh® Regular (silicone carbide grit with standard backing) - The standard grade of Micro-Mesh used for the majority of operations on plastics, paints, wood and most metals and polymers. It is used to produce a uniformly smooth surface and bring the surface to a high gloss finish. Available in grades 1500 to 12000 (30 to 2 microns), and in sheet sizes of 3" x 6", 4" x 6", 6" x 12" and 12" x 12". For volume users Micro-Mesh Regular is also available in bulk rolls.
Kits of Micro-Mesh Sheets are also Available.
Micro-Mesh may cost more than ordinary sandpaper, but it produces finishes 10 to 20 times finer. Applications in our instrument shops at SIS include cleaning and polishing stainless steel instrument parts, mass spectrometer probe rod polishing, and metal finishing in our machine shop. Micro-Mesh can be used wet or dry. By beginning with the coarser grits (1500 -2400) and successfully polishing with the finer grits (3200 - 12000) we have produced mirror finishes on probe shafts and stainless steel electronic reflectors.
Micro-Mesh Regular Sheet Sizes Available
---
Micro-Mesh Regular 3" x 6" Sheets
Micro-Mesh Regular 4" x 6" Sheets
Micro-Mesh Sheet, Grade=Regular, Width (in)=4, Length (in)=6, Unit of measure: EA
Part No.
Grit
Picture
Quantity
In Stock
Price
Quantity
to order
MM1500
1500
138
$4.59
MM1800
1800
185
$4.59
MM2400
2400
143
$4.59
MM3200
3200
117
$4.59
MM3600
3600
103
$4.59
MM4000
4000
245
$4.59
MM6000
6000
220
$4.59
MM8000
8000
188
$4.59
MM12000
12000
265
$4.59
---
Micro-Mesh Regular 6" x 12" Sheets
Micro-Mesh Sheet, Grade=Regular, Width (in)=6, Length (in)=12, Unit of measure: EA
Part No.
Grit
Picture
Quantity
In Stock
Price
Quantity
to order
MM15006
1500
1
$9.40
MM18006
1800
14
$9.40
MM24006
2400
8
$9.40
MM32006
3200
20
$9.40
MM36006
3600
5
$9.40
MM40006
4000
3
$9.40
MM60006
6000
269
$9.40
MM80006
8000
202
$9.40
MM120006
12000
15
$9.40
---
Micro-Mesh Regular 12" x 12" Sheets
---