Micro-Mesh® Aluminum Oxide Sheets
Micro-Mes®h is available in three grades (Regular - MX - AO), in a wide selection of Grits and in a wide variety of formats including sheets (for convenient use), rolls (for higher volume users), discs (for power tools), belts, tapes and others listed below.
---
Micro-Mesh® Aluminum Oxide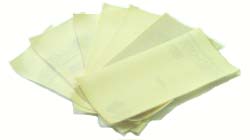 Micro-Mesh® Aluminum Oxide (aluminum oxide grit) - This grade of Micro-Mesh was designed specifically for finishing aluminum and other solid surfaces. Available in grades 1500 AO to 12000 AO (30 to 2 microns).
Kits of Micro-Mesh Sheets are also Available.
Micro-Mesh AO Sheet Sizes Available
---
Micro-Mesh AO 4" x 6" Sheets
Micro-Mesh Sheet, Grade=AO, Width (in)=4, Length (in)=6, Unit of measure: EA
Part No.
Grit
Picture
Quantity
In Stock
Price
Quantity
to order
MAO300
300
71
$4.59
MAO600
600
72
$4.59
MAO800
800
79
$4.59
MAO1500
1500
72
$4.59
MAO2400
2400
29
$4.59
MAO4000
4000
0[*L]

Standard lead-time for out-of-stock items is approximately two weeks depending on the item.

$4.59
MAO12000
12000
76
$4.59
---
Micro-Mesh AO 6" x 12" Sheets
---
Micro-Mesh AO 12' x 12" Sheets
---