Clean Tex Cloths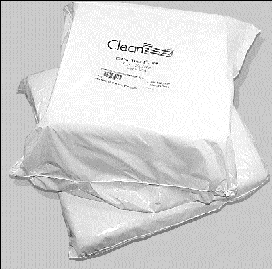 Wipes are disposable, 100% cellulose, lint-free cloths designed for cleaning areas where non-contamination is essential. They are ideal for wiping and cleaning magnetic tape drives, relays, contacts, and delicate electronic components.
Non-Contaminating - The lint-free and fuzz-free characteristics of 100% cellulose wipes allow either dry or solvent cleaning without depositing cloth residue on sensitive surfaces. Wipes are non-halogen and suitable for use in all critical applications where strict, contamination control is essential. Clean Tex tightly woven construction of 178 threads per square inch sets the standard for the highest quality lint-free wiper available. The twill weave, designed for particle entrapment, permits particles of dust, grit, and grime to fall from contact surfaces into the weave pattern. The raised portion is then able to produce a gentle burnishing action, free from embedded particles previously removed. This ensures scratch-free wiping of the most delicate areas of data processing equipment, such as magnetic heads and other critical surfaces.
Nylon Gloves Part #G280L - Large Nylon Gloves Nylon Gloves-Large Pair Case=24 Pairs

$1.95+

Nylon, lint free, durable, and ambidextrous.

Inland 45 Mechanical Pump Oil Part #INV451 - Inland 45 Rough Pump Oil, 1 Gal. Bottle, Hp #=6040-0798 Inland 45- 1 gal

$115+

Inland 45 is the highest quality rough pump oil you can use for your mass spectrometer.

600 Grit Alumiunum Oxide Cleaning Abrasive Part #ALX6004 - 600 Grit Alum. Oxide, 4 oz. Bottle Aluminum Oxide Polishing 4 Oz

$14+

The ALX6004 superfine aluminum oxide cleaning abrasive is the finest grit aluminum oxide abrasive.

Notes: Multiplier horn only (no frame).

DeTech 2300 Electron Multiplier for Agilent 5975*/5973/5972/5971/1100 Part #2300 - Detech 2300 Electron Multiplier Replacement Horn Agilent #05971-80103

$539+

For instruments: Agilent 5975 MSD (without TAD), 5973/A/N, 5972/A, 5971/A, 5970/A/B, 1100 LC-MSD.

KA1 Part #KA1 - Koby Vacuum Pump Air Filter, Replacement Koby Junior Air Filter Rated To 90PSI 1/4" Adapter

$46.95+

Vacuum Pump Exhaust Filter Kits for Edwards Pumps - FK201 Part #FK201 - Edwards Large Pump Filter Kit- E1M5/8, E2M2/35/8, Rv3/5/8 Vacuum Pump Filter Kit Rv Series And E2M2 And Larger

$325+

Vacuum Pump Exhaust Filter for Edwards Pumps

Wing-Nut Aluminum Clamp Part #QF25100CW - Wing Nut Al Nw25 Clamp

$6+

Industry standard die-cast aluminum clamp.

FC-43 Perfluorotributylamine MS Calibration Compound Part #FC4335 - Bottle of Fc-43, 35 gram Calibration Compound

$62+

This compound is available in bottles of 35, 100, and 200 grams.