Thermo/Finnigan MAT TSQ High Temperature Direct Probe
Maximum temperature 800 degrees C
Fast ramp rates
For use on Finnigan MAT TSQ mass spectrometers
Direct heating of sample
Strong, easy to use flared sample vials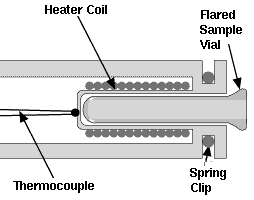 Scientific Instrument Services has developed a new High Temperature Direct Insertion Probe (HT-DIP). The probes can be used from ambient temperature up to 800 degrees C with ballistic temperature ramp of over 700 degrees C/min.
Applications include polymers, pharmaceuticals, natural products as well as other solid or liquid samples.
The high temperature DIP is designed for use on the TSQ mass spectrometer and other instruments which use a ½" probe inlet. The high temperature DIP has a maximum use temperature of 800 degrees C. The probe will ballistically heat from room temperature to 800 degrees in about one minute. The probe is designed such that the probe must have cooling gas, such as compressed air, circulating through the probe at all times during the analysis. This keeps the probe shaft cool even when the probe is used at high temperatures. This eliminates potential damage to the probe inlet seals. A temperature sensor in the shaft of the probe monitors the shaft temperature and acts as a safety shut-off if the shaft becomes too hot. The probe must be used with the S.I.S. Model PC-2F temperature controller.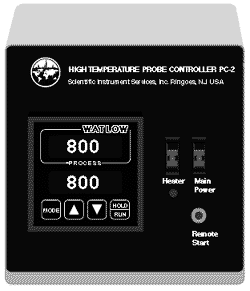 The S.I.S. Model PC-2F temperature controller is specifically designed to be used with the S.I.S. high temperature DIP. The controller can be programmed to perform controlled ramping of the probe temperature at rates up to 200 degrees C/min. The
digital display shows both the final set temperature of the probe as well as the actual probe temperature. The controller includes a remote start switch and cable which allows the remote start of the mass spectrometer data collection from the PC-2F controller.
Part No.
Description
Price
EA
Order
FP15
High Temperature DIP for Finnigan TSQ
$5300.00
PC2F
High Temperature DIP Controller for Finnigan TSQ
$2050.00