Product ID : SC123
SC123 Cartridge Heater for Thermo ITD open split interface, 120V, 45W, Thermo #=94011-98023
Description
Replacement ceramic, metal case cartridge heater for the Thermo MAT ITD open split interface oven is available from S.I.S. The heater measures 3 inch long, 1/8 inch diameter, 45 watts and 120 volts.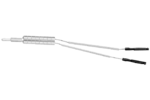 Thermo Incos 50B and XL PRT
This is a direct replacement for Thermo #55000-60085.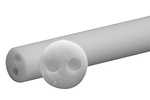 Two Hole Round Ceramic Tube Insulators
The following two hole alumina ceramic tube type insulators are available in six inch lengths.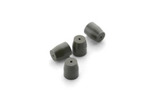 SGE Graphitized Vespel® Ferrules
Vespel® ferrules contain 15% graphite and are ideal for glass and fused silica capillary columns.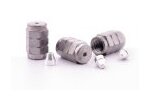 SGE Ferrules for GC
standard graphite ferrules (for GC applications)