Product ID : DGF250
DGF250 Fittings=1/4" LABCLEAR DISPOSABLE FILTER, PSI=125 DGF125 Fittings=1/8" LABCLEAR DISPOSABLE FILTER, PSI=125
Description
For your convenience, the LabClear™ Disposable Gas Filter is now available. Like the refillable model, it contains indicating Drierite® desiccant and #13x molecular sieve. The body of the LabClear™ Disposable Gas Filter is constructed of clear PVC for easy viewing of the Drierite® color indication, which changes color from blue to pink with the absorption of moisture and comes equipped with 1/8" or 1/4" brass male tube compression fittings. Each unit is tested at 125 psi, and can with-stand temperatures up to 100 °F. The LabClear™ Disposable GasFilter is offered only in the 200 cc capacity with the "inline" configuration, and is approximately 7" long by 2" in diameter. Flow rate to 5 liters per minute.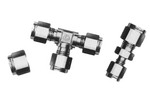 Swagelok® Fittings
A complete line of Brass and Stainless Steel Fittings for GC, MS and general laboratory use.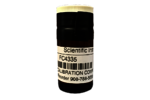 FC-43 (Perfluorotributylamine) Calibration Compound
This compound is available in bottles of 35, 100, and 200 grams.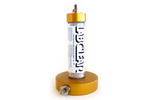 Labclear™ Gas filter
The Labclear Gas Filter is designed to remove water, oil and other foreign material from inert carrier gases such as nitrogen, helium or argon.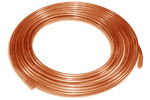 Copper Tubing
Flexible 1/8" copper is a convenient, non-permeable means of supplying GC carrier gas, Helium for sparging HPLC reservoirs, detector gas supplies, etc.