Agilent (Hewlett Packard) 5989 Source Cleaning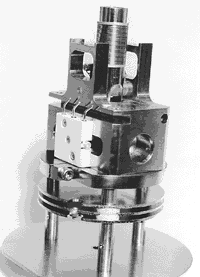 Cleaning of the Hewlett Packard 5989 Source begins with the complete disassembly of the source. Cleaning and polishing of all metal parts are followed by thorough washing and bake out in an oven. All ceramic insulators are sandblasted followed by solvent washing and bake out. Vespel insulators are washed in solvent and baked out. If the Vespel insulators are broken, they will need to be replaced at additional cost. The filament and target assemblies are cleaned. A new filament is installed on the filament assembly ceramic. The ceramic insulators on the target and filament assembly are not replaced if missing or damaged beyond repair. Replacement of these parts will incur additional costs as outlined below. The plunger assembly is disassembled, the repeller and repeller insulator are polished and cleaned and the plunger body repeller surface is polished and solvent cleaned. After all parts have been repaired, cleaned and baked out, the source is reassembled. The filament is accurately aligned over the ion entrance hole and clamped in place. The source is checked for resistance leaks as well as visual alignment of all parts.
Parts Cleaned: entire source block, lenses, insulators, target, filament and plunger assembly.
Parts replaced if missing or broken: Plate insulators and new filament.
Not included in standard source cleaning price: replacement of missing screws and other metal source parts as well as broken or missing filament and target ceramics, repeller insulator, and plunger guide.
Shipping in for Repair: Normally the source block and associated parts are shipped in for repair. The source should be thoroughly wrapped in packaging material and double boxed to avoid damage in shipment.
Covers SIS products, services, promotions, news, and other mass spectrometer related information.