The Bullet Blender® Homogenizer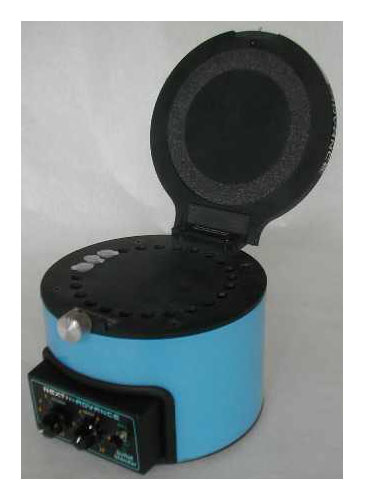 The Bullet Blender® Homogenizer enables you to homogenize, disrupt, or lyse 24 tissue or cell culture samples at a time. Load the samples int polypropylene microcentrifuge tubes, then place them in the Bullet Blender. The "bullets" in the "blender" vigorously strike all the sample tubes simultaneously for a few minutes. The Bullet Blender is available with Air Cooling™ to preserve your sample quality.
Applications
Homogenize Tissue - Liver, Spleen, Kidney, Brain, Adipose
Homogenize Tougher Tissue - Heart, Aorta, Tumor, Tail Snips, Muscle, Lung
Lyse Cells - E. coli, Mamallian cell culture, Yeast
Homogenize Plant Material - Leaves, Beans, Nuts, Roots
Homogenize Small Organisms - Zebrafish, Drosophilia
Whole Cell Isolation - Bacteria, Lymphocytes, Blood Cells
Organelle Isolation - Nucleus, Mitochondria
DNA
RNA
Protein
From Plant Samples


Genomic DNA samples in agarose
gel stained with ethidium bromide.

Lanes 1-4 = Tobacco leaf DNA

Lanes 5-8 = Rice Leaf DNA samples

From Tail Snips



Total RNA gel. RNA Integrity
Number = 8.5

(thanks to Madhu Prasad @
Univ. of Michigan)




From E. coli Samples


SDS-PAGE gel stained with
Coomassie Blue.

wc = whole cell

sf = soluble fraction

Left two lanes control Right
two lanes induced
---
Bullet Blender® Models
Bullet Blender®
Bullet Blender® for
Screw-Cap Tubes
Bullet Blender® Blue 5
Bullet Blender® 50-DX
Number of Samples
24 Tubes
24 Tubes
12 tubes
8 Tubes
Tubes
1.5 to2.0mL snap-top polypropylene microcentrifuge tubes (e.g. Eppendorf® Safe-Lock™
1.5mL scew-top polypropylene microcentrifuge tubes(e.g. Axygen Corning®)
5mL screw-cap
50mL polypropylene skirted screw-cap tubes, placed in sleeves
Maximum Fill Volume
1.2mL or 1.5 mL
1.2mL
3mL
20mL
Maximum Tissue Sample Size
300 mg
300 mg
1 g
3.5 g
Air Cooling
Factory option available
Factory option available
Included
Included
CE Certified Option
Yes
Yes
Yes
No
Field Model
Factory Upgrade Available
Factory Upgrade Available
Not Available
Not Available
Integrated BioBox™ Enclosure
Not Available
Factory Upgrade Available
Not Available
Not Available
The Bullet Blender® uses 24V DC supplied by a small external power supply that plugs into a wall outlet. The appropriate power supply will be provided for your region.
Features
Compact - The footprint is only 8" (20cm) wide by 10" (25cm) deep. The BB50-DX model is 13" (33 cm) wide by 14" (35 cm) deep.
High Throughput
User friendly with only two settings to select: time and speed (intensity).
The time of the run may be adjusted from 1 - 5 minutes (15 minutes for the Bullet Blender Blue 50). The Bullet Blender will automatically stop after the selected time is up.
The Bullet Blender has 10 speeds, easily selectable from a front panel control. This wide array of speeds allows the Bullet Blender to be used for gentle vortexing, vigorous homogenization, or anything in between.
Versatile - the Bullet Blender can be used in temperatures ranging from 4° to 60°, (avoid condensation, which will damage electronics and void the warranty).
Requires only an electrical outlet for operation.
CE certified 24V power supply, shipped with the proper plug configuration for your wall outlets.
Air Cooling™ on "Blue" models prevents samples from heating up when processing multiple rounds.
Patented striking technology.
Built in the USA for years of trouble free use.
Warranty: two years parts and labor, three years on the motor.
30 day money back guarantee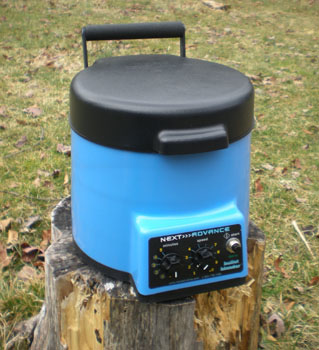 A fully portable, lightweight unit that will allow you to homogenize samples as you collect them. The Field Model contains an internal rechargeable battery, capable of 25 completer 5 minute runs of 6 tubes each between charging. This upgrade weighs only 9 pounds including the internal rechargeable battery pack, and fits in most backpacks.Equipped with a padded handle for easy carrying, this factory upgrade is available on models that use microcentrifuge tubes. Includes a vehicle charger for recharging the Field Blender on the road. Must be purchased with a microcentrifuge tube Bullet Blender, such as BBX24, BBX24W, BBX24B, or BBX24W.
Battery provides over 2 hours of continuous use.
Padded handle for easy transport
Modified capacity of 6 microcentrifuge tubes to maintain performance when battery is low.
Car power adapter included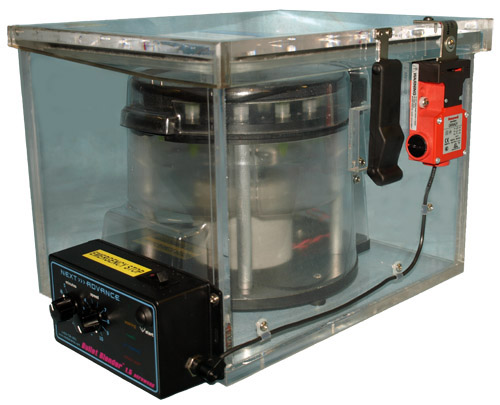 The BioBox Bullet Blender is a homogenizer with an extra barrier of protection.This high-throughput homogenizer allows you to homogenize up to 24 samples simultaneously in separate screw-cap microcentifuge tubes, with additional protection against pathogens and other potentially hazardous samples. Full automation ensures that you get highly reproducible results, while the locking enclosure, kept under negative pressure, provides an extra level of protection unmatched by other automated homogenization systems.This is a factory installed enhancement, so the BBX24W or BBX24BW must be purchased at the same time. The BioBox and Bullet Blender units ordered with the BioBox are final sale only.
Secondary enclosure for containing contaminants.
Negative Pressure to ensure leaks are inward and contaminants do not escape.
Interlocks to indicate that the secondary enclosure is closed and seal is intact.
Transparent to visually confirm tube and sample integrity.
The Air Cooling System draws air into the Bullet Blender, keeping your samples at ambient temperature. This feature is particularly effective if your samples are sensitive to heat and you are using your Bullet Blender in a refrigerator or a cold room. The Air Cooling is also useful for preventing the inside of your Bullet Blender unit from heating up if you are running several consecutive homogenization cycles. Air Cooling is an option on microtube models and standard on the 5mL and the 50mL tube models.
---