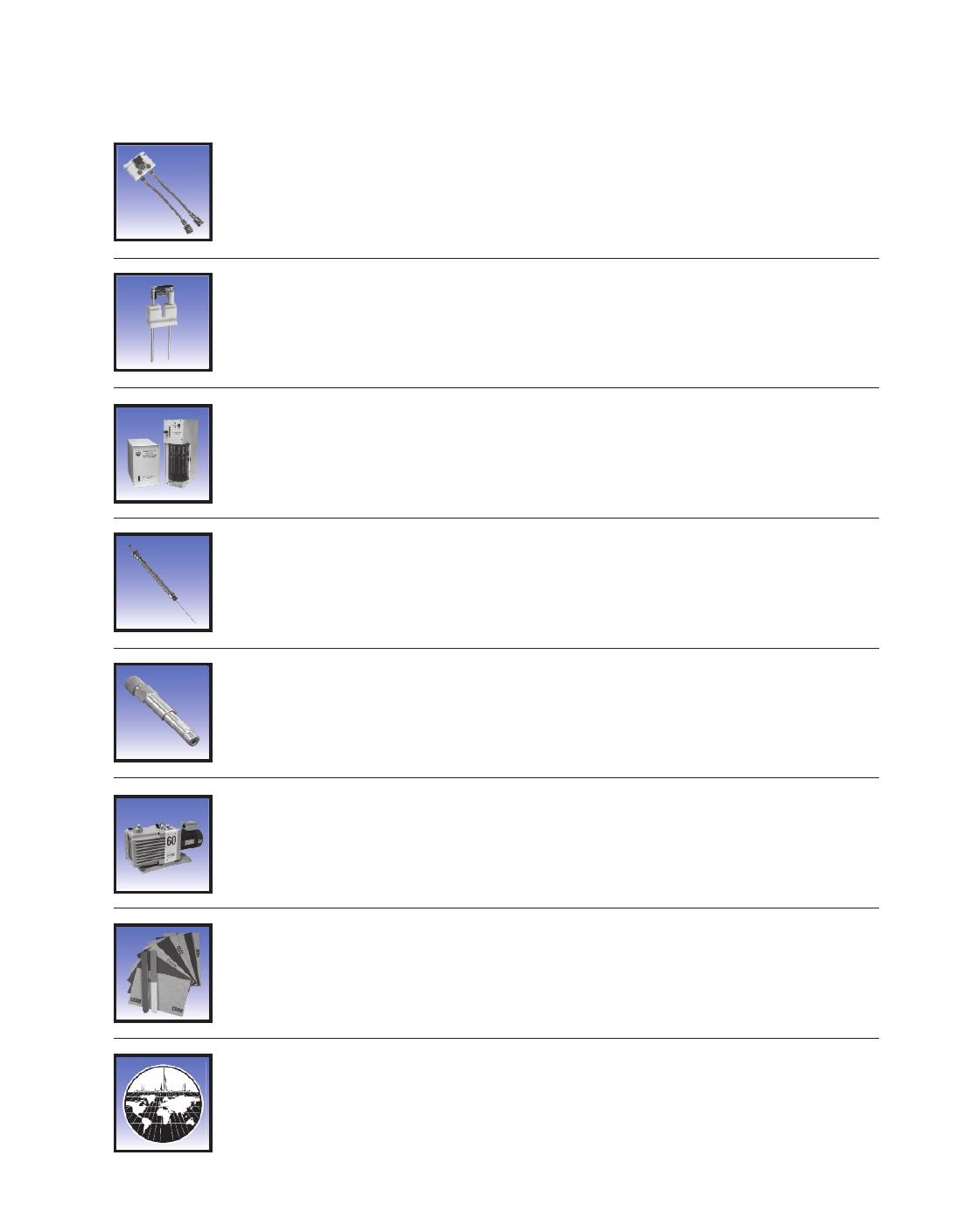 Optimize Technologies Trap Cartridges
Scientific Instrument Services, Inc.
™
FAX: 908-806-6631
www.sisweb.com/catalog/08/E5
Trap Cartridges
ften a sample bound for HPLC or LC/MS analysis requires some type of clean-up to ensure optimal results. Detergents or salt can
affect the ionization process, while overly dilute samples can be swamped out by background noise, making them undetectable. There
are many methods to treat samples, but most require lengthy off-line procedures that involve significant sample handling. These pro-
cedures not only consume valuable time, but also can result in appreciable sample loss.
Optimize Technologies trap cartridges are an elegant and efficient means for sample processing. Trap cartridges are small packed beds that
use the adsorptive properties of analytes to effectively concentrate dilute samples, desalt, remove detergents, and more. Unlike off-line proce-
dures that require significant sample handling and potential sample loss, Optimize trap cartridges have the advantage of being able to be used in
a completely on-line environment. On-line clean up not only increased recovery, but is also amenable to automation for unattended use and high-
er throughput.
Traps work on the principle of "digital chromatography". This is the most apt description because there are typically only two states of the ana-
lyte: bound and unbound. This on/off behavior is exploited by either trapping the analyte and letting sample matrix and contaminants go to waste;
or by trapping the undesirable components and allowing analytes to pass unimpeded. The discontinuous interaction of the analyte in a trap car-
tridge prevents dilution and dispersion that may occur in larger beds with a more distributive partitioning effect.
Optimize Technologies offers two lines of trap cartridges to suit any trapping need. The OPTI-PAK
capillary traps are designed for ultra-low
volume applications where any excess in volume could be detrimental to the assay. OPTI-LYNX
traps offer higher capacity, as well as the OPTI-
LYNX quick-connect hardware for the ultimate in connection simplicity. Both formats are available in a number of different phases and support
material, choose the trap design and material that best fits your needs. Optimize Technologies also offers custom dimensions and packings.
Trapping Applications
Though Optimize Technologies trap cartridges can be used for a number of different applications, two of the most
common are sample concentration/desalting and detergent removal. The general procedures listed below outline a
possible approach to these applications and illustrate the basic concepts to the trapping technique.
Sample Concentration/Desalting
Some samples contain an unacceptable concentration of salts and/or are in a volume that is too great for the
analytical technique being used. In these instances, a trap cartridge may be used to trap the analyte effectively
removing salts and eluting the analyte in a smaller, more concentrated volume of eluent.
To successfully concentrate and/or remove salts, the optimal strategy is that of trapping the analyte within the
trap cartridge and allowing undesirable components to go to waste. This can be done most efficiently by plumbing a
switching valve as shown in
Figure A.
The chemistry of the trap cartridge should be chosen such that there is good
selectivity for the analyte of interest, with little to no affinity for the salts or other contaminants. Loading should be
done with weak solvents to prevent the analyte from dispersing in the bed. Prudent selection of bed volumes can
also prevent unwanted sample dispersion. Optimize traps come in a variety of different volumes and dimensions to
facilitate the best trapping environment with minimal broadening or dispersion effects.
Once the sample has been sufficiently processed, the analyte is eluted from the trap. This can be done by run-
ning a gradient through the trap and onto an LC column, or it can be performed with a plug of a strong solvent elut-
ing the sample in one tight band. While the latter of these two options is best, it is not always possible. Using the
plumbing diagram from above, the elution valve position is displayed by
Figure B
Detergent Removal
The second strategy for trapping is exemplified by the application of detergent removal. Detergents may be pre-
sent as carryover from SDS PAGE analysis, or have been added to help solubilize the sample. Whatever the rea-
son, detergents greatly hinder MS analysis and, therefore, must be removed from the sample matrix. One of the most
common detergents is the ionic detergent sodium dodecyl sulfate (SDS). Fortunately, removal of SDS is a fairly sim-
ple task when using Optimize trap cartridges.
Ionic detergents like SDS can usually be removed using an ion exchange trap. SDS is an anionic detergent, so
a strong anion exchanger (SAX) is the packaging material of choice. The approach for detergent removal is exactly
the opposite of desalting/concentrating outlined above: the undesired component, i.e., the detergent is retained in the
trap cartridge while the analyte is flushed directly through to the LC column or MS. For the specific removal of SDS
from a protein mixture, it is best to keep the mobile phase pH at 4.4 or lower to keep the anionic amino acid
sidechains protonated and less likely to interact with the SAX functionalities.
One possible configuration of plumbing this set up is shown in
Figures C and D
. The first valve position puts the
gradient pump directly in-line with the trap, removing detergent from the sample matrix and sending detergent-free
matrix and analyte on for further analysis. The second position takes the trap out of the main flowpath so that it may
be regenerated for subsequent runs. With a judicious choice of loading and regenerating conditions, Optimize trap
cartridges can be reused numerous times.
Most trapping applications can be performed with the myriad of silica based packings we carry. For applications
requiring extreme pH, there is also the choice of polymeric packing materials. We also offer custom packing to ensure
that you will always have a solution available for your trapping and chromatographic needs.
Gradient Pump
Waste
Aux.
Pump
LC Column
Fig. A
Gradient Pump
Waste
Aux.
Pump
LC Column
Fig. B
Gradient Pump
Waste
Aux.
Pump
LC Column
Fig. D
Gradient Pump
Waste
Aux.
Pump
LC Column
Fig. C