Product ID : W214
W214 Platinum Wire, Diameter (in)=0.014, Diameter (mm)=0.36, (ohms/cm)=0.01045
Description
More details on associated web pages: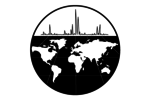 Platinum Wire and Ribbon
Platinum Wire is used in many applications including gasket or o-ring fabrication, thermocouples, electrical contacts, and heater coils.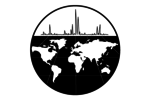 Silver Wire and Ribbon - Filament and Heater Material
Silver wire and ribbon has the highest electrical and thermal conductivity of all metals. It is used to make lead wires for some mass spectrometer filaments and heaters.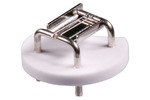 Filament Repair Services for Mass Spectrometers
Mass Spectrometer filaments and heaters can be repaired and restored to a like-new condition at S.I.S.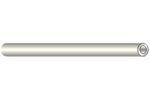 Agilent(Hewlett Packard) Lead Protector for Source Leads
Are available in both quartz and ceramic.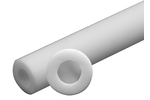 Single Hole Round Ceramic Tube Insulators
The tubes are constructed of a pure 99% alumina ceramic that has superior gas and vacuum tightness and excellent insulating properties even at elevated temperatures.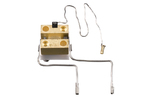 Perkin Elmer / Torion / Hitachi Filament Repair
All RMU filaments and heaters are repairable.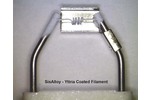 Long Life Yttria Coated SISAlloy® (Yttria/Rhenium Alloy) Mass Spec Filaments
SIS can repair your filaments with our non-sagging filament wire (SISAlloy® yttria/rhenium alloy with yttria coating). Users have experienced filament lifetime increases of 2 to 3 times compared to the standard uncoated rhenium filaments.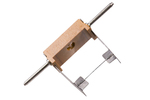 Agilent/HP Filament Repair at SIS
We will completely clean the assembly and replace the rhenium filament wire.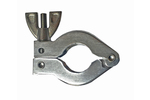 Wing-Nut Aluminum Clamp
Industry standard die-cast aluminum clamp.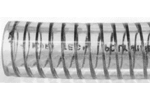 Steel Wire Reinforced Vacuum Hose
This food and beverage grade, crystal clear PVC tubing is reinforced with 110 ton psi steel spring wire.